Advantage for Mondeville in first leg of LFB Challenge Round final
---
---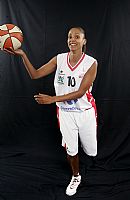 Lenae Williams
marked her contract extension with 33 points in the first leg of the LFB Challenge round final against Challes-les-Eaux.
For the last game of the season, there was a huge ground at the "halle Bérégovoy" to support Mondeville as they fight for a place in Europe for next season.
The first half was a physical but even affair with both sides tied (19-19) at the end of the first period.

Martina Gyurcsi-Luptakova and Silvia Bedu-Janostinova did most of the scoring for Challes at this stage of the game.
Mondeville managed to gain the upper hand briefly to begin the second period but Kirby Copeland's one lady show brought Challes-les-Eaux back into contention.
Challes' dominance in the paint allowed them to finish with a 10-0 run to go into the interval leading (40-36).
Copeland had 12 points for Challes while Williams had put 15 points for Mondeville.
The third period is best to be forgotten as both sides went defensive with just 12 points scored between the two teams.
All the same Mondeville regained the lead and went into the final period with a 2-point cushion (45-43).
Jennifer Digbeu fired in 8 points at the start of the final period as Mondeville finally took control of the match.
In addition Williams connected with her 5th three-pointer of the evening as Mondeviile opened the first lead of any significance (54-45) with eight minutes to play.
Williams was to hit 2 more three-pointers while Copeland went 1-of-4 from the free-throw line as Mondeville held on to win by 12 points.
LFB Challenge Round Box Score
The final game will be played on Friday, 8 May 2009 in Challes-les-Eaux and will be covered life by LFB-TV.
---
Results and statistics from the semi-finals
Union Hainaut 72-74 Challes-les-Eaux
Challes-les-Eaux 76-65 Union Hainaut

Challes-Les-Eaux won on aggregate (150-137)
---
SJS Reims 73-81 USO Mondeville (18-28, 26-16, 15-22, 26-15)

USO Mondeville 88-62 SJS Reims

USO Mondeville won on aggregate (167-135)
---
Challenge Round quarter-final second leg basketball news
Return to women playing basketball blog
Return from LFB Challenge Round basketball news to LFB news index
Picture credits:

Ligue Féminine de BasketBall

Date created: 06 May 2009

---