LFB challenge round taking backstage
---
---
The LFB challenge round play-off series took backstage as the news of a possible merger between USVO and Saint Amand has been the week's talking point.
If the merger between the two clubs go ahead, then Saint Amand's FIBA EuroCup place will be offered to Clermont-Ferrand. The latter team finished in eighth place during the regular season. This news will also have an implication for COB Calais to have the opportunity to be re-elected and stay in the Ligue Féminine de BasketBall.
Furthermore it also have an effect on the relegation rules in NF1 as Saint Amand will not be taking a NF1 spot. Hence only one team in this league will be relegated.
The organisers of the challenge round have to be happy with the qualification of Aix-en-Provence and Tarbes for the semi-final of the LFB challenge round. The two clubs finished 10th and 11th respectively during the regular season and will play against each other in the semi-final.
Challes-les-Eaux, already assured of European Basketball next season, were pushed by Arras all the way in a tight game. Clermont-Ferrand did enough to put an end to the season of Reims.
Mondeville's season is over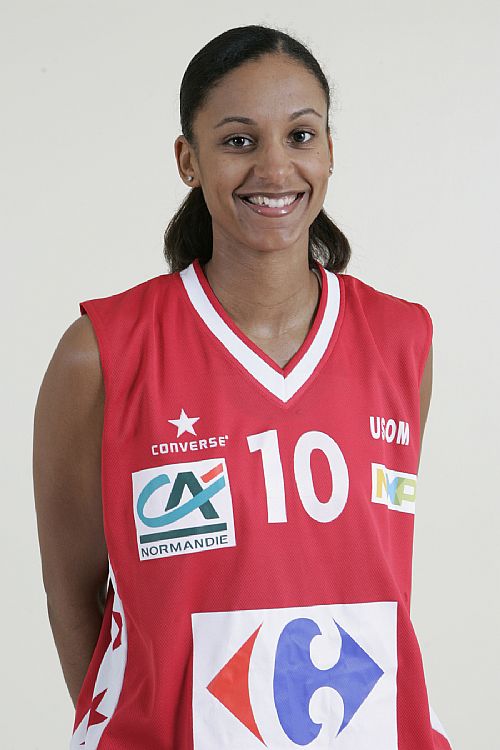 Mondeville had a 10-point handicap from the first leg. By the end of the first period (22-10) they had a 2-point aggregate lead. Aix used their physical strength in the second quarter and started to find their way to the basket. Yet Mondeville held on to their advantage (39-28) at the interval but were up by 1 on aggregate.
Lennae Williams, (in picture) who is not really 100%, came to live in the third period and hit 11 points for Mondeville as her team went into the final quarter (54-39) with a 5-point aggregate lead.
The last period was a tense affair. Anda Jekabsone restored the aggregate lead back to Aix (58-50) with two free-throws with just under 3 ½ minutes left to play. Nothing happened over the next two minutes score wise due to good defence by both sides.
Ingrid Tanqueray scored for Mondeville as the game was approaching 60 seconds (60-50) to tie the series.
K. B. Sharp was not ready to let the series go and managed to draw Tanqueray into fouling her.
She then hit the resulting free-throws. The two sides went to the free-throw line once more with Mondeville winning the game (61-53) but losing the series by 2 points.
Williams led all scoring with 16 points for Mondeville while Sharp with 16 points was the only player in double digits for Aix.
Pauline Jannault, a player from Mondeville, who had signed to join USVO for next season is now likely to re-sign with Mondeville for 2008-2009. It has been confirmed that Clarisse Costaz will join Mondeville next season and Williams will be back in the colours of Mondeville.
LFB Challenge Round Box Score
---
Tarbes taking challenge round seriously
Tarbes scored the first points of the match. Then they were hit for 10 points by their hosts from Saint Amand (12-2).
However Tarbes changed their team tactics for this game. With Isabelle Yacoubou-Dehoui back in the line-up used her post skills to reduce Saint Amand's advantage.
Saint Amand was still leading (24-19) and increased their advantage to 9 points (30-21). Tarbes continued to change systems with Clémence Beikes (left) running riot to reduce by the interval Saint Amand's lead to only 3 points (42-39).
In the second half of the match Liz Moeggenberg and Laure Savasta took over the offensive duties as Tarbes took control of the game and eventually ran out winners (70-63).
Tiffany Stansbury and Inès Ajanovic did their best for the hosts and finished with 13 and 18 points respectively.
LFB Challenge Round Box Score
---
In the remaining challenge round games Pauline Krawczyk and Claire Tomaszewski guided Clermont-Ferrand with 18 and 15 points respectively to end Reims' season (78-70).
In the final period Reims came to within a single point of their hosts (62-61). Mia Fisher's season came to an end at 34 minutes by picking up her fifth personal foul. Anne-Marie Parau tried to rally her teammates in one last effort but their hosts held their nerves.
Box Score Box Score
Challes-les-Eaux and Arras had the most exciting game of the evening. Laina Badiane was the match winner for Challes with 22 points.
Sheana Mosch and Sylvie Gruszczynski combined for 51 points as they pounded their opponents for the full 40 minutes. The season is over for Arras who played this series without Carla Thomas who is already back in America.
Challes-les-Eaux will play Clermont-Ferrand in the second semi-final of the Ligue Féminine de BasketBall challenge round.
Box Score Box Score
Return leg Challenge Round quarter-final results
Challes-les-Eaux 84-62 Arras (Challes-les-Eaux win 145-135)
Clermont-Ferrand 78-70 Reims (Clermont-Ferrand win 140-128)
Mondeville 61-53 Aix-en-Provence (Aix-en-Provence win 134-132)
Saint Amand 63-70 Tarbes (Tarbes win 140-116)
---
Return from LFB Challenge Round to "What's New" page
Return from LFB Challenge Round to Basketball LFB News
Pictures courtesy of the Ligue Féminine de BasketBall

Date: 26 April 2008
---