LFB challenge round making its debut in the Ligue Féminine de BasketBall
---
---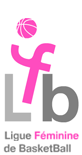 After the first games in the LFB challenge round, nothing has been decided. Tarbes had the biggest win of the evening and will travel to Saint Amand on Friday with a 17-point lead. Aix-en-Provence beat Mondeville for the first time this season and go into the leg with a 10-point advantage.
Arras recovered from a disastrous first period but still ended up losing 8 points to Challes-les-Eaux, while Reims fell short at home by 4 points to Clermont-Ferrand.
Liz Moeggenberg enjoying pressure of play-off basketball
Liz Moeggenberg came up with probably her best game of the season as Tarbes pushed aside Saint Amand (70-53). Moeggenberg was everywhere during the first 20 minutes. She scored 16 points which included 3-of-4 from the land of many. Moeggenberg also took 5 rebounds, dished out 3 assists and made 2 blocks as Tarbes went into the interval (38-25).
Kristen Mann who had scored 11 points in the first half went on the rampage during the third period. She scored 12 points from her side's 16 points as they stretched their lead to 20 points by the end of the quarter (54-34).
Moeggenberg picked up her fourth personal foul early in the fourth period and had to sit on the bench for the first time in the match. Tarbes, already with a reduced bench due to the absence of Isabelle Yacoubou, were stretched to their physical limit. Saint Amand used Tarbes' handicap and started scoring in order to reduce their deficit to 14 points (60-46).
Laure Savasta used her experience late in the game to draw fouls and get herself to the free-throw line on three occasions. She hit all her throws allowing Tarbes to win the first leg and more importantly take 17 points into the second match.
WNBA players shining in the LFB challenge round
During the play-offs in France, it is not very often that we have the WNBA players taking part. For Tarbes Mann (left) finished the match with 23 points while Moeggenberg (she is taking the coming season off from WNBA) finished with 20 points. For Saint Amand it was another player from the WNBA who led the scoring for her side with 12 points: Tiffany Stansbury.
LFB Challenge Round Box Score
---
Aix-en-Provence taking first leg against Mondeville
Aix-en-Provence got off to a flying start to open up an early lead (11-3).
Naura El Gargati
kept Mondeville in touch early on as she scored her side's first 9 points as they began their chasing the game. Aix were leading (15-9).
It was only after El Gargarti went to the bench that other players from Mondeville started to score. Aix' advantage (19-18) after the first period stretched to 10 points by half-time (47-36).
The third quarter belonged to Mondeville as they started to hit their long shots and made up their deficit to go take the lead briefly (63-61) before finishing the quarter level (63-63) after a Sharp period-ending-buzzer-beater..
Mondeville appeared to be controlling the situation and pushed ahead (69-65). Erik Lehman had been turning his bench except K. B. Sharp playing the full 40 minutes.
Stéphanie Beuzelin came up with big shots for Aix during the third and fourth period. Liad Suez-Karni scored for Aix most of the points in a 12-0 run that secured her team's victory (79-69). Aix went on to win (81-71) for their first win of the season against Mondeville.
Liad Suez-Karni (above) led the scoring for Aix with 23 points while K. B. Sharp contributed 15 points and dished out 9 assists. Yacine Sene was the other player in double digits with 13 points. But all eight players ended up on the score sheet.
Pauline Jannault led the way for Mondeville with 17 points. El Gargarti finished with 16 points.
LFB Challenge Round Box Score
---
Reims left it late and lost first leg in LFB challenge round tie
Reims were never in a situation to control this game. A poor second period allowed their opponents, Clermont-Ferrand, to take advantage. Marie-Laure Fleury-Kindoki took her role in the absence of Zuzanna Klimesova as the main offensive threat and led the scoring for the home side with 17 points. Mia Fisher was the only other player in double digits with 11 points.
Clermont-Ferrand were steady in their approach and with their ability to hit three-pointers at crucial moments. They always held the edge in this game. Claudia Das Neves and Pauline Krawczyk scored 12 points each to lead the scoring. Jennifer Butler dominated the boards with 10 rebounds as Clermont took a 4-point lead back to their own court on Friday (62-58).
LFB Challenge Round Box Score
---
Challes did enough to down Arras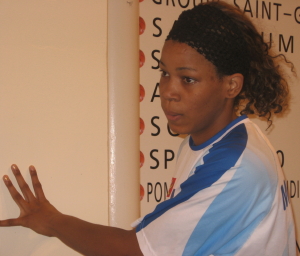 Challes-les-Eaux opened a 16-2 lead within the first five minutes of the match to take hold of the game. Arras was without Carla Thomas and took a while to get into the game. Challes was in front (22-8) after the first period.

Marielle Amant (above) and Sheana Mosch were able to find holes in the Challes' defense as Arras became more aggressive. Challes kept control of the match by keeping them away from the free-throw line and went into the interval leading (35-25).
Laina Badiane's performance during the third period allowed Challes to increase their advantage (49-35).Challes stretched their advantage to more than 20 points during the final quarter (56-35) and had the game won.Corinne Benintendi, the Challes head coach, had decided on turning her bench regularly and took her side out of stride almost allowing Arras back into the game.Arras were more aggressive during the final minutes and started to get to the free-throw line. By the end of the game they reduced their overall deficit to 8 points.
Badiane and Marlous Niewveen scored 15 points each for Challes in their (61-53) victory while for Arras Mosch led all scoring with 19 points and was joint in double digits by Amant with 15.
LFB Challenge Round Box Score
---
Challenge Round quarter-final results
Arras 53-61 Challes-les-Eaux
Reims 58-62 Clermont
Aix-en-Provence 81-71 Mondeville
Tarbes 70-53 Saint Amand
---
Return from LFB Challenge Round to "What's New" page
Return from LFB Challenge Round to Basketball LFB News
Read the Ligue Féminine de BasketBall Challenge round play-off preview

Date: 23 April 2008
---