The LFB basketball news comes second to the WNBA
---
---
Some news from the WNBA
With the WNBA play-off series all tied, the LFB basketball news looks at why these results mean that certain players will miss the Open LFB this weekend.
Leilani Mitchell, (left) who plays for New York and has signed for Asptt Arras, and Sanni Olayinka, (right) who will join Calais, are both on the roster at Detroit.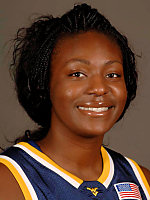 With the LFB starting their league programme a week before any other country in Europe it was always going to be difficult for any player involved in the WNBA play-offs to arrive in France before the season opener.
The fact that all the WNBA teams are still in the competition and the deciding matches will be played on Tuesday already ruled out their participation in playing in France whatever the outcome.
There will not be much rest for the two American players as their clubs in France will be needing them to join up as soon as possible after the end of their WNBA season.
The WNBA play-offs is always interesting to watch. This season there are two French players Sandrine Gruda and Edwige Lawson-Wade involved, hence there is an increased interest in France. Both women played in Russia during the European season and declined invitations to play for France this summer.
In the USA the conference finals will start on Friday, 25 September 2008, with the WNBA finals scheduled to start on 1 October 2008.
LFB basketball news from around the clubs
Back in France, Mondeville won their own tournament last weekend, the
Open Région Basse Normandie
:
They beat Bourges Basket (75-74) in the final. Lenae Williams scored 23 points in the final match including 3-of-5 from beyond the arc.
Mondeville had beaten Calais (85-49) while Bourges had won against Clermont-Ferrand (68-51) to qualify for the final. Clermont-Ferrand won the match for third place with a comfortable victory against Calais (74-52).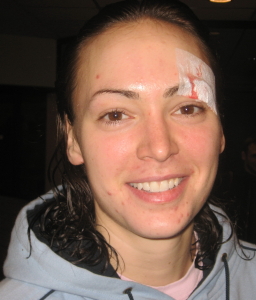 Montpellier also staged a four-team tournament, Jacky Chazalon:
Tarbes beat Aix-en-Provence (78-70) to qualify for the final, while Montpellier did enough to hold off Basket Landes (80-72). Aix secured third place with a comfortable victory against Basket Landes (70-57).
Tarbes won the tournament by beating the hosts by a single point (58-57). Sheana Mosch (above)led the scoring for Montpellier with 22 points but her side had to settle for second best.
Elsewhere Union Hainault Basket (UHB) finally found a team to play and beat Neufchâtel twice (75-71) and (91-57). Villeneuve d'Ascq won against Waregem (73-54).
Arras put all their difficulties behind them and won two games in Belgium. They beat Charleroi (75-53) and then Novia Namur (73-53).
The pre-season is almost over and all the international players have sinced returned to their clubs.
Challes-les-Eaux had an extensive pre-season, winning all of their matches.
Reims' preparation was disturbed with injuires and other issues which have seen them cancel games. However they ended on a good note with a victory against Nantes.
---
Return to women playing basketball blog page
Return from LFB basketball news to LFB news
Picture credits:
West Virgina University - Sanni Olayinka
Leilani Mitchell - Utah University

Date created: 23 September 2008

---