Who will qualify for
the LFB championship play-offs?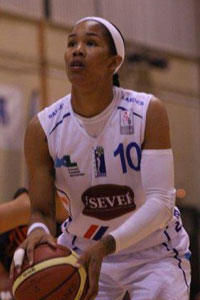 Basket Landes' LFB victory against Lattes Montpellier (79-58) has set up an interesting end to the regular season.
Basket Landes led from start to finish with everybody scoring at least 4 points. They also won the rebound contest 35-21.For Montpellier this defeat hurts their championship play-off ambition because they drop to fourth place and will meet Tarbes and Bourges in their final two games.
Although Basket Landes were comfortable winners, they will still be thanking Tamera Young (in picture) who scored the last points of the game with 20 seconds to play.
Her 2 points enabled Basket Landes to win by the same margin they lost to Montpellier earlier in the season. Basket Landes are currently in sixth place but just one point behind Montpellier.
Basket Landes will host Union Hainaut Basket before visiting Charleville-Mézières to conclude their season.
Nantes-Rezé stay in the hunt for LFB title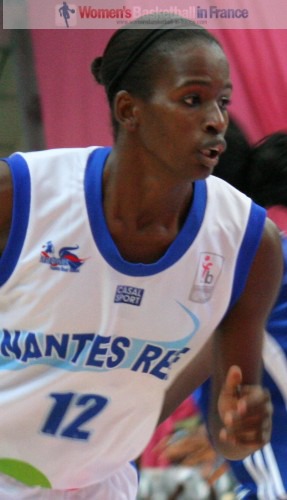 When Laurant Buffard decided to rest Mame-Marie Sy-Diop (right) last weekend. He was repaid in full when she came up with the block of the evening on Leilani Mitchell from Arras with the clock winding down.
Nantes-Rezé won the match (77-76) and hold on to fifth place on point average against Basket Landes.
Nantes face Toulouse next and end the regular season against Aix-en-Provence.
If they win both games and if Montpellier or Challes-les-Eaux drop points they could snatch a top four finish.
However they will need to play more consistently then in the game against Arras.
Leading by 9 points going into the final quarter, they found themselves trailing (64-68) with four minutes to play. Sy-Diop then went to work at both ends of the court with assists, blocks, points and steals.
Emilija Podrug led the scoring with 17 points. Lindsay Taylor added 16 points and picked up 10 rebounds while Sabine Niedola added 10 points.
Arras cannot finish any higher than 7th place after this defeat.
---
In the LFB musical chair game Challes-les-Eaux moved into third place after beating Villeneuve d'Ascq on the road (83-73).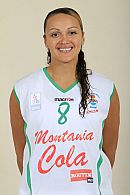 Mistie Bass (left) was yet again the lady on form. She went 10-of-10 from the charity stripes in compiling a total of 24 points. Bianca Thomas was not far behind with 21 points.
Challes-les-Eaux' last two games of the LFB regular season are against Mondeville and COB Calais.
Tarbes who are currently second, finished poorly against Aix-en-Provence but had enough points in reserve to hang on for the victory (70-64).
Tarbes just need to win one from the remaining two games to qualify for the championship play-off. They meet Montpellier next and finish the season against UHB.
For the first time in the history of the Ligue Féminine de Basket so many teams are fighting for a top finish with just two games remaining.
In the rest of the LFB action COB Calais were beaten at home in double overtime by Union Hainaut Basket (77-84).
Mondeville suffered a home defeat (47-59) against Charleville-Mézières.
Bourges Basket waited until the third quarter to blow away Toulouse with a 24-6 run to win comfortably (71-44).
---
LFB results of round 24:
Basket Landes 79-58 Lattes Montpellier
Basket Landes: Aminata Konate 4, Katarina Manic 10, Bineta Diouf 4, Anaïs Le Gluher 12, Julie Barennes 13, Tamera Young 13 (5 assists and 4 steals), Marion Laborde 9 (5 assists), Laurie Lapeyre DNP, Jennifer Humphrey 14 (14 rebounds)
Lattes-Montpellier: Virginie Bremont 8, Alicia Poto 0, Iva Perovanovic 11, Cyrielle Hugues DNP, Mathilde Roche DNP, Ana Lelas 15, Gaëlle Skrela 10 (5 steasls), Sandra Dijon-Gérardin 4, Ines Ajanovic 3, Fatimatou Sacko 7
---
Nantes-Rezé 77-76 Arras
Nantes-Rezé: Florine Basque DNO, Caroline Aubert 9 (5 assists), Joyce Cousseins-Smith 0, Mélanie Plust 6, Allison Hightower 9, Yuliya Andreyeva 3, Mame-Marie Sy-Diop 7, Lindsay Taylor 16 (10 rebounds), Sabine Niedola 10, Emilija Podrug 17
Arras: Leilani Mitchell 7 (7 assists), Laury Aulnette DNP, Krissy Badé 6, Sarah Michel 15, Johanne Gomis 11, Olesia Malashenko 14, Adja Konteh 0, Marielle Amant 13, Aija Putnina 0, Pauline Akonga N'Simbo 10
---
Villeneuve d'Ascq 73-83 Challes-les-Eauc
Villeneuve d'Ascq: Carine Paul 0, Ingrid Tanqueray 3, Marjorie Carpréaux 4 (5 assists), Laurie Datchy 10, Elodie Gomis 16, Carla Thomas 15, Olayinka Sanni 19, Elodie Bertal 4, Adrijana Knezevic 2
Challes-les-Eaux: Romy Bär 10, Bianca Thomas 21, Alexia Plagnard 14 (5 steals), Sabrina Palie 2, Mistie Williams-Bass 24, Magali Lacroix 10, Jennifer Fleischer 2
---
Bourges Basket 71-44 Toulouse
Bourges Basket: Anaël Lardy 3, Maja Miljkovic 5, Romane Bernies 0, Nwal-Endéné Miyem 10 (12 rebounds), Styliani Kaltsidou 12, Jennifer Digbeu 9, Catherine Joens 16, Paoline Salagnac 6, Emméline Ndongue 6, Ilona Burgrova 4
Toulouse: Lou Mataly 0, Jessie de Colo 1, Camille Aubert 3, Chandrea Jones 15, Emilie Maurice 2, Leslie Matanga 0, Lola de Angelis 0, Shanavia Dowdell 12, Suzanna Milovanovic 11
---
COB Calais 77-81 Union Hainaut Basket-St Amand
COB Calais: N'Deye N'Diaye 12, Sylvie Gruszczynski 27, Mélanie Devaux DNP, Aurélie Cibert 10 (7 assists), Mélanie Arnaud 11, Manon Sinico 4, Pelagia Papamichail 6, Brigitte Ardossi 7
Union Hainaut: Amanda Jackson 8, Emilie Duvivier 19, Clémence Beikes 20, Emilie Silbande-Petiteau 4, Noémie Lemaire DNP, Céline Girard DNP, Laëtitia Kamba 12 (13 rebounds), Lindsay Wisdom-Hylton 6 (5 assists), Elsa Martins DNP, Alison Bales 12
---
USO Mondeville 47-59 Charleville-Mézières
USO Mondeville: Touty Gandega 0, Anne-Sophie Pagnier 0, Esther Niamké-Moisan 2, Aija Brumermane 4, K. B. Sharp 7, Lenae Williams 14, Yacine Séné 6, Pauline Thizy 0, Aurélie Bonnan 10, Valeriya Berezhynska 6
Charleville-Mézières: Amel Bouderra 12 (7 assists), Belinda Mboma 10, Sarra Ouerghi 6, Alexia Kusion 0, Ekaterina Dimitrova 6, Kristen Mann 13, Djéné Diawara 12, Eléonore Grossemy 0, Patrycja Gulak-Lipka 0
---
Tarbes 70-64 Aix-en-Provence
Tarbes: Roneeka Hodges 14, Jelena Dubljevic 20, Ivanka Matic 10, Pauline Lo 7, Biljana Pavicevic 0, Isis Arrondo 2, Naura El Gargati 1, Florence Lepron 6, Darline Nsoki 0, Brooke Smith 11
Aix-en-Provence: Emmanuelle Gorjeu 0, Claire Tomaszewski 12, Zoi Dimitrakou 11, Isabelle Strunc 0, Anaïs Viale 0, Natalie Hurst 9, Sabrina Réghaïssia 14, Carren Gay 4, Hollie Grima 14
---
Return from LFB Basketball News to Ligue Féminine de BasketBall index
Go to Women Playing Basketball In France Home Page
Return to the top of page
---
LFB basketball news picture credits:


LFB
womensbasketball-in-france.com
Basket Landes
Date created: 31 March 2011
---