LFB 7th place secured for Arras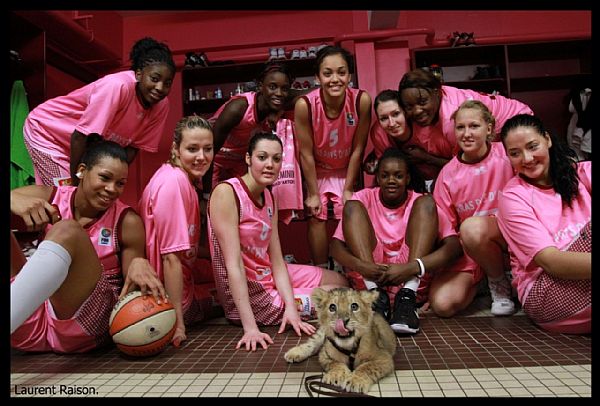 With no chance of qualifying for the LFB championship, Arras and Mondeville faced each other in the rescheduled game from round 21 to determine which team would finish 7th at the end of the regular season.
Arras, playing at home, edged a closely fought first quarter (18-16) thanks to a buzzer beater by Johanne Gomis.
The second quarter was not pretty to watch with a catalogue of missed and turnovers by both sides.
Yet Arras maintained their advantage (28-26) despite a trey by Lenae Williams with four minutes to play before the interval.
Then Arras scored the next 6 points. But it was Mondeville that finished the quarter with the last 5 points to trail (31-34).
Both teams stepped up in intensity after the break and were on level terms (38-38) with 23 minutes played.
Valeriya Berezhynska and Aurélie Bonnan kept Mondeville in the game as they went into the final quarter tied (45-45).
The final quarter became a one-sided affair with the hosts going on an 11-0 run to take control of the match.
Arras went on to win (56-48) with Pauline Akonga N'Simbo leading the way with 17 points.
Arras are sure of finishing the LFB regular season in 7th place, while Mondeville need to win their last match to be sure of finishing in 8th place.
Arras: Leilani Mitchell 2 (5 assists), Laury Aulnette DNP, Krissy Badé 6, Sarah Michel 5, Johanne Gomis 7, Olesia Malashenko 7, Adja Konteh 0, Marielle Amant 3, Aija Putnina 9, Pauline Akonga N'Simbo 17 (11 rebounds)
USO Mondeville: Touty Gandega 0, Anne-Sophie Pagnier 0, Esther Niamké-Moisan 0, Aija Brumermane 6, K. B. Sharp 14, Lenae Williams 7, Yacine Séné 0, Pauline Thizy 0, Aurélie Bonnan 11 (15 rebounds), Valeriya Berezhynska 10
You can read here about the basketball news from the previous round.
---
Return from LFB Basketball News to Ligue Féminine de BasketBall index
Go to Women Playing Basketball In France Home Page
Return to the top of page
---
Basketball news picture credits:


Laurent Raison

Date created: 10 April 2011
---