LFB Basketball news
Essence Carson comes to Bourges Basket
---
---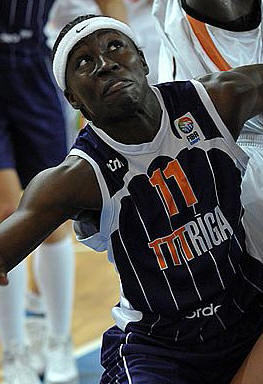 The announcement of
Essence Carson
's signing at Bourges Basket is the latest LFB basketball news from Bourges Basket.
Ana Lelas is officially on the injury list and not expected to be back on the basketball court until January 2010.
As a result Bourges Basket have the right to sign a medical replacement.
After two seasons without an American, Bourges Basket have gone to New York Liberty and chosen Carson as the replacement.
Carson was the number 7 draft in the WNBA in 2008 after a successful NCCA college career with the Scarlet Knights of Rutgers.
Carson also represented the USA on the youth international scene where she played at the World Championship in the U19 and U21 age groups in 2005 and 2007.
In her first professional season 2008-2009, she played for TTT Riga in Latvia and Umana Reyer in Italy.
Her nick name is "E" and she turned 23 in June. When she is not playing basketball, she can be found by her piano.
Bienvenue en France
---
Return from LFB Basketball News to Ligue Féminine de BasketBall index
Return to "what new" - WBBiF page
Return to women playing basketball in France home page
Picture credits:

FIBA Europe

Date: 30 October 2009

---
---