9th FIBA World Championship final qualification for USA
---
---
The USA women are back in the final of a FIBA World Championship for Women (Basketball World Championship for Women) after beating Spain (106-70) in the second semi-final in Karlovy Vary, Czech Republic.
The USA opened the game with an 11-1 run during the first three minutes to never look back.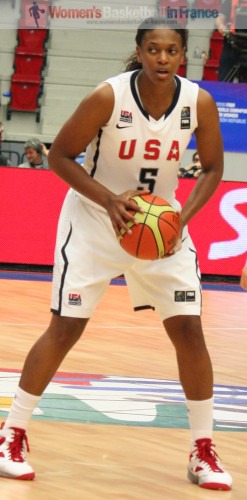 Spain had to make some adjustments in their starting line-up because they were without Sancho Lyttle who had injured herself in the quarter-final.
However Spain were able to get into the game with a couple of baskets from Alba Torrens and 2 points by Laia Palau (7-13).
Nevertheless it was an "all USA show" during the first quarter,with 10 of the 12 players getting on the court to open up a 13-point lead (29-16).
The second quarter was not much different with the USA on cruise control going into the locker room (58-34).
The second half was not any more exciting for the public because the game turned into an exhibition match with the USA doing most of the scoring.
They led (87-53) going into the final quarter.
The game fizzled out and for the second time in this tournament, Asjha Jones (left) knocked down the 100th point for the USA.
The final score was: USA 106-70 Spain.
Sylvia Fowles led the scoring for the USA with 13 points, while Diana Taurasi and Angel McCoughtry had 11 points each.
For Spain Marta Fernández and Nuria Martinez scored 16 and 11 points respectively.
---
World Championship news from day 8
Return to FIBA World Championship page
GO Back to the top of the page
---
World Championship picture credit:
womensbasketball-in-france.com
Date created: 02 October 2010
---