FIBA World Championship finalists are
the Czech Republic and the United States of America
---
---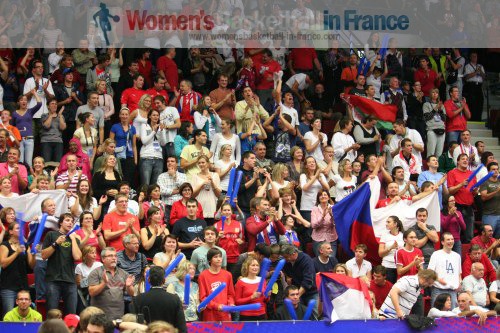 The USA have qualified for the final of the 2010 FIBA World Championship for Women and will face the Czech Republic in the final match.
This will be the ninth final for the USA and the first final for the Czech Republic. However under the name of Czechoslovakia, this team has been in the final twice but had been defeated.
France and Australia will face each other in the match for fifth place after beating Korea and Russia respectively.
Brazil outscored Japan (84-79) in a thrilling game for ninth place.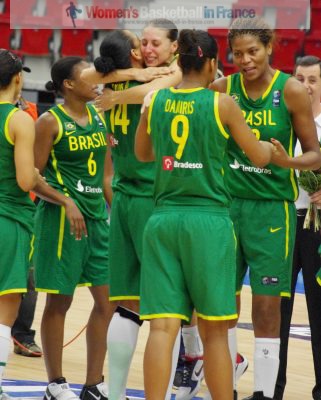 Alessandra Oliveira from Brazil marked her retirement from international basketball by leading the scoring with 21 points in just 18 minutes on the court.
Helen Luz, also from Brazil, has also signed off from playing international basketball for Brazil.
In the classification games, Greece won the match for 11th place against Canada (71-55). The scoring was led by Dimitra Kalentzou with 21 points while Styliani Kaltsidou added 18 points.
By clicking on the links you can reach our match reports for the semi-finals:
USA 106-70 Spain
Czech Republic 81-77 Belarus

The remaining results of the day:
Korea 46-61 France
Australia 78-43 Russia
Japan 79-84 Brazil
Greece 71-55 Canada

France and Australia will meet again
France waited 25 minutes to put down Korea
After Emméline Ndongue opened the scoring for France, the French player Jennifer Digbeu and Kwe Ryong Kim from Korea scored the next 10 points between them leaving France in the lead (8-4).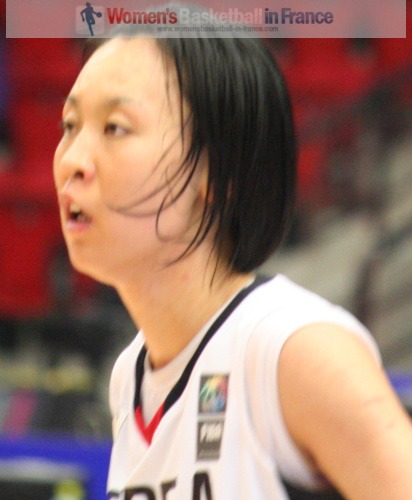 Nevertheless France could not increase the gap because Ha Yeon Beon (left) scored 7 points during the first quarter for her team to trail (11-15).
Although France dominated all sectors of the game they were unable to score many points. So they went into locker room with an 8-point advantage (31-23).
Korea gave France a little scare at the start of the third quarter. With 24 minutes played it was a 3-point game (34-31).
However Pierre Vincent called a time-out and changed his playing systems.
His players then stepped up a gear and with two baseline rainbow tree-pointers by Marion Laborde France took control of the game. They then went into the final quarter (45-32).
France controlled the pace for the remaining ten minutes and won (61-46) with 15 points coming from Laborde. Ndongue and Clémence Beikes had 10 points each while Beon scored 21 points for Korea.
With this victory France will end their FIBA World Championship with a match against Australia for fifth place.
For France Nwal-Endéné Miyem did not play because of ankle problems.
---
Australia and Russia had been expecting to meet in the semi-final. However due to their defeats in the quarter-final they did not qualify and have to play in the classification round for fifth place.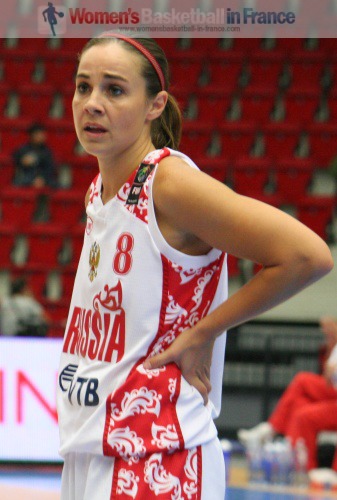 The importance of Becky Hammon (right) to the Russian team was clear after she had to leave the game with 8:38 to go. She had just scored a lay-up when she suddenly stopped. She left the court and did not return.
Russia were leading (57-53) at the time of the incident.
Lauren Jackson, Liz Cambage and Kristie Harrower then went to work and Australia were back on level terms (63-63) with four minutes left to play.
Sventlana Abrosimova and Elena Danilockhkina tried to hold Russia together. But with Maria Stepanova fouling out with three minutes left to play, the task of stopping Australia became more difficult.
Cambage and Penny Taylor led Australia with 19 points each. Jackson and Harrower contributed 17 and 14 points respectively as Australia edged out Russia (78-73).
Abrosimova and Stepanova had 20 and 16 points for Russia.
---
Return to FIBA World Championship page
GO Back to the top of the page
---
FIBA World Championship picture credit:
womensbasketball-in-france.com

Date created: 2 October 2010
---