FIBA World Championship game report:
Canada took France to the wire
---
---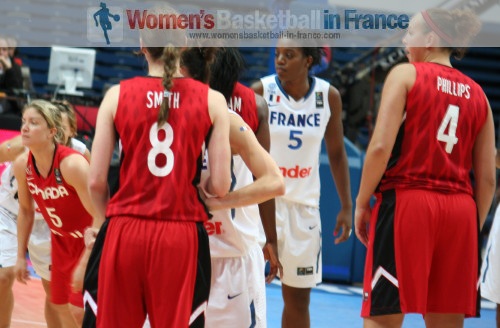 Canada wanted to end the qualification round of the FIBA World Championship for Women with a bang and gave France a hard time.
The first 36 minutes of the game were not nice to watch with both sides having a difficult time scoring. However they all played well in defense.
Yet the last four minutes was exciting basketball with Céline Dumerc stealing the show on the buzzer with the game-winning lay-up for France to win (49-47).
Nwal-Endémé Miyem and Anaël Lardy top scored for France with 9 points each, while for Canada Kimberly Smith and Natalie Achonwa had both 12 points.
You can read our full game report below.
Canada did not waste any time in getting into this match with Chelsea Aubury hitting a three-pointer and
Kimberly Smith
scoring for a (5-0) start.
France were not playing well. Despite hitting some fast break points they trailed throughout the first quarter (12-16).
France remained scoreless for the first six minutes of the second quarter while Canada scored 7 points to stretch their advantage to (23-17).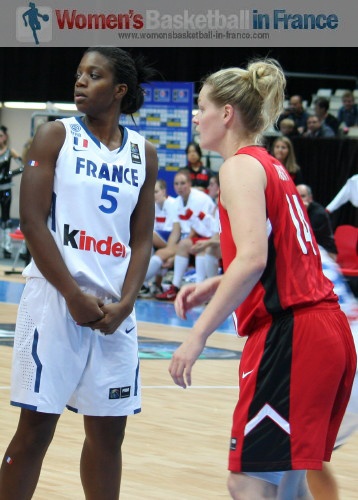 France's festival of missing finally came to an end with treys from Nwal-Endémé Miyem (left) and Marion Laborde.
Canada were then on the back foot with France going in front (24-23) for the first time after a couple of free throws from Emméline Ndongue with just under 18 minutes played.
Jennifer Digbeu completed the 15-0 run for France by splitting a pair of free throws.
France went into the locker room leading (27-25).
Miyem scored within the first minute after the break. Yet we had to wait more than six minutes for the next basket by Anaël Lardy.
Canada's only points came from the free-throw line with Tamara Tatham scoring 3-from-4.
The highlight of the quarter came from Florence Lepron as she drove to the basket and then fired in a jump shot for France to lead (33-28) going in the final quarter.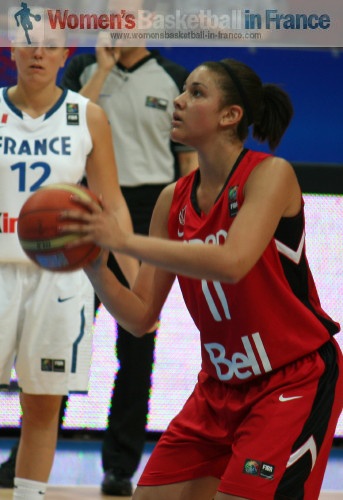 The match finally came to live in the final four minutes after Natalie Achonwa (right) put Canada in front (40-39).
France were forced to step up and a trey by Lardy appeared to have secured the victory. But Smith had other ideas and with 5 points Canada were back in front (47-45) with 37 seconds left to play.
France levelled the score through Miyem with 22 seconds left on the game clock.
During the last seconds three time-outs were called. Tatham missed a couple of free throws and as the game clock reached zero Dumerc drove towards the basket to score the winning shot.
---
FIBA World Championship match Report: France 52-62 Australia
Return to FIBA World Championship page
GO Back to the top of the page
---
FIBA World Championship picture credit:
womensbasketball-in-france.com
Date created: 29 September 2010
---