FIBA World Championship match report:
Jackson and Taylor see Australia through
---
---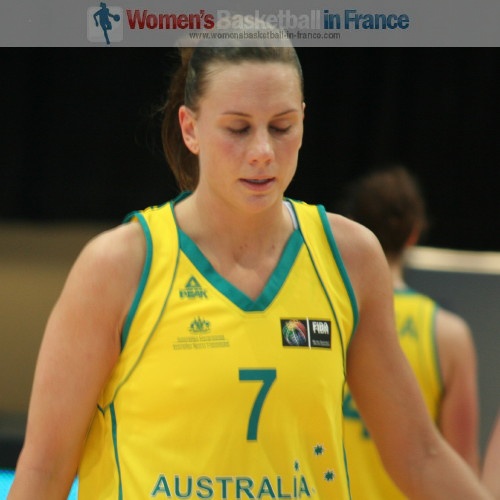 Australia have booked their ticket into the FIBA World Championship for Women quarter-final after beating France (62-52) on day 5 of the tournament.
Lauren Jackson and Penny Taylor (left) led the scoring for Australia with 19 and 18 points respectively while Hollie Grima finished on 10 points. Jenny O'Hea had 5 assists.
10 of the 11 Australian players on the court scored.
For France nobody was in double digits. But Pierre Vincent played all 12 players and 11 of them scored.
Céline Dumerc had 4 assists and 9 points while Florence Lepron and Nwal-Endéné Miyem finished on 8 points.
You can read our full game report below.
Both teams started lively with Australia coming out on top during the fist five minutes with 6 points from
Penny Taylor
and a trey by Hollie Grima (9-7).
For France Céline Dumerc, with a trey, and Florence Lepron did all the scoring.
Both coaches start to the rotation game with players. However 2 early fouls for Liz Cambage resulted in her having to return to the bench.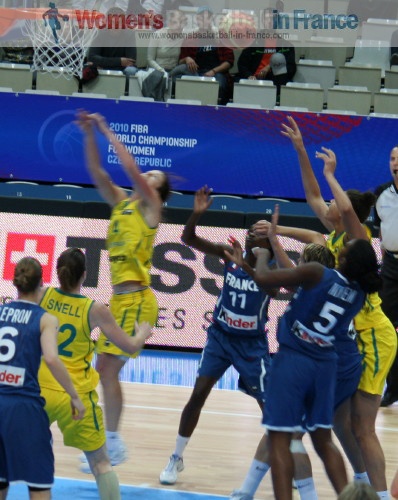 Taylor's 8th point completed an Australian 9-0 run (13-7). Then Anaël Lardy's trey broke the Australian sequence. But Marianna Tolo scored the last points of the first quarter for Australia (15-10).
The second quarter was more intense. France struggled to get inside and spent a lot of time shooting from distance while Australia continued to play the patience game.
Belinda Snell and Lauren Jackson appeared to have set Australia on their way (27-18) with 16 minutes played. Yet Johanne Gomis side-stepped her way to the top of the key for a three-pointer.
France continued to battle away and an individual piece of play by Lepron reduced the deficit for France to 6 points.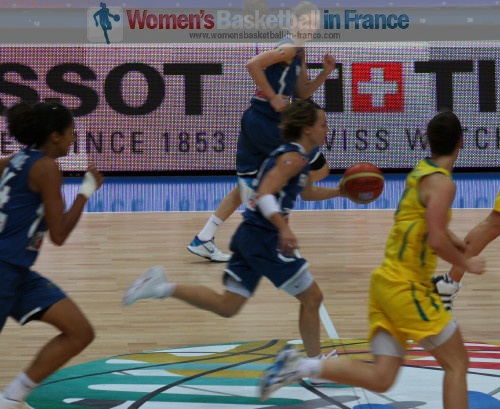 However some careless defending from France allowed Taylor into the paint to score and draw a foul. She hit the free-throw and Australia went into the locker room leading (34-25).
Pierre Vincent and Carrie Graf continued their coaching chess match at the start of the second half while on court Taylor and Dumerc opened the scoring for their teams.
Both sides had to work hard for their points. With 25 minutes played Australia led (39-36) after Lepron was allowed to get to the basket.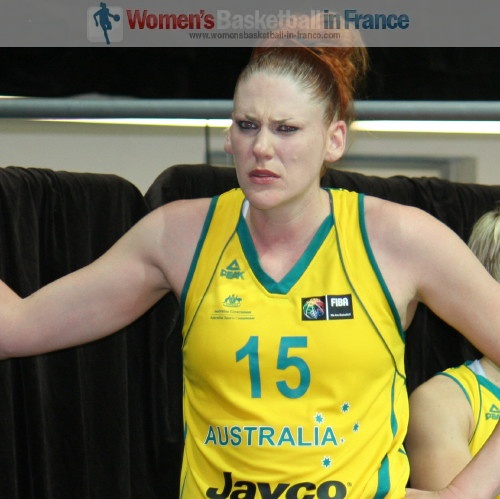 The pace and intensity of the game went up as France drew level with Lepron once again finishing with her trademark lay-up (41-41) with just over two minutes left to play in the quarter.
Australia were forced to become more aggressive and put themselves back in front with a trey by Grima.
Jackson was also forced to play harder in the paint as Australia held on to the lead (48-44) going into the final quarter.
Australia showed no pity to France at the start of the last quarter and went 10 points clear (54-44) with some excellent fast break finishing with just over two minutes played.
Pierre Vincent called for an immediate time-out for France.
He succeeded in stopping Australia from scoring at will but was not able to get an offensive run going. Yet the game was full of suspense all the way to the end.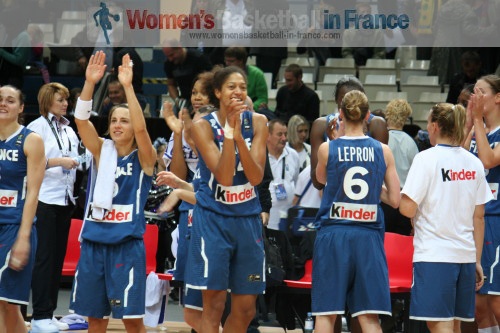 ---
FIBA World Championship match Report: France 58-48 Belarus
Return to FIBA World Championship page
GO Back to the top of the page
---
FIBA World Championship picture credit:
womensbasketball-in-france.com
Date created: 28 September 2010
---