FIBA World Championship match report:
Dumerc hustling France to victory
---
---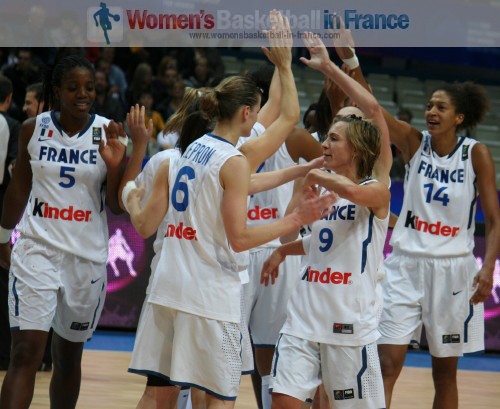 France and Belarus are no strangers to each other in FIBA competitions. Hence both sides started the game cautiously.
France struck first with back to back baskets from Nwal-Endémé Miyem.
Miyem continued her attacking festival as France opened an early lead (11-4) with just under five minutes played.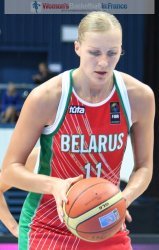 The rest of the quarter was rather technical with a lot of running up and down but little scoring with France holding on to the lead (14-8).
Yelena Leuchanka (left) started to throw her weight around at the start of the second quarter and scored 6 straight points.
Belarus came to within 2 points of France (14-16) midway through the quarter.
Then they went in front for the first time when Leuchanka found Anastasiya Verameyenka in the corner for a baseline three-pointer.
Céline Dumerc stepped up the pace for France with some aggressive play that saw her score 7 points including a trey. She also collected an assist for France for her side to go into the locker room leading (25-20).
At half time of this FIBA duel Dumerc was leading the scoring for France with 11 points while Leuchanka had 10 for Belarus.
The two players stepped on the accelerator at the start of the second half.
Once Natallia Marchanka started to get her running game going and Yuliya Dureika and Verameyenka found their three-point shooting touch for Belarus they drew level (29-29) with just under 26 minutes played.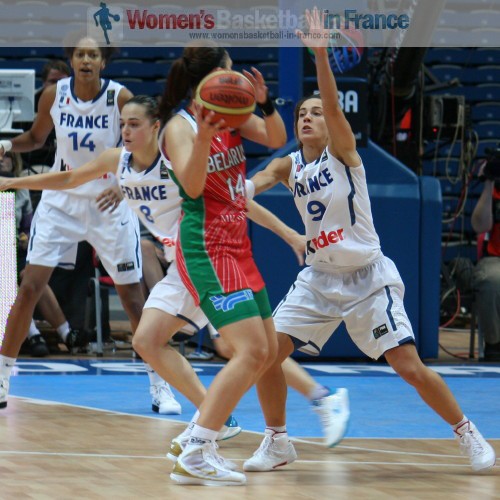 France were on the back foot and despite a three-point play by Florence Lepron, they fell behind after Aliaksandra Tarasava and Tatyana Troina connected from the land of many.
Pierre Vincent had no option but to call a time-out (32-37) to stop the onslaught.
France went 4-of-4 from the charity stripes to close the quarter trailing by a single point (36-37).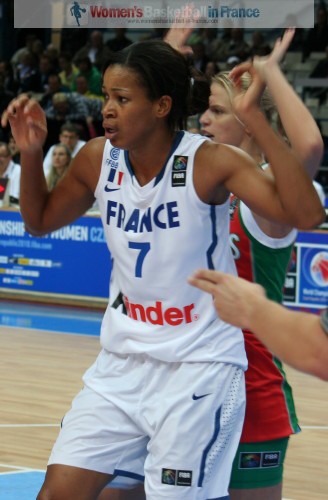 At the start of the final quarter France went on a full court press. Miyem scored back to back points off the work of Dumerc.
Dumerc continued to hustle and her team-mates started to find their way to the basket for France to move 9 points clear (46-37) with six minutes to play.
Leuchanka ended the French 12-point run from the free-throw line.
Then Belarus went on a three-point shooting spree while Lepron took over from Dumerc in keeping France in front (54-48) with a minute to play.
France went on to win (58-48) with the last points coming from Clémence Beikes (58-48).
Miyem led the French scoring with 14 points, while Dumerc contributed 13 points, dished out 5 assists and made 6 steals.
Leuchanka finished with 17 points for Belarus and Verameyenka contributed 10 points.
---
Return to FIBA World Championship page
GO Back to the top of the page
---
picture credit:
womensbasketball-in-france.com
Date created: 27 September 2010
---