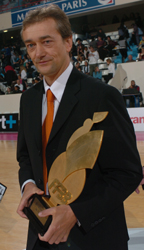 Pierre Vincent has named his FIBA World Championship training roster. The roster includes nine players from the
2009 EuroBasket Women winning squad
.
Vincent explained that he wanted to bring back all 12 players from last year. But it was not possible because Cathy Melain had retired after the victory with France last year.
The two other players missing are Emmanuelle Hermouet who retired from international basketball and Pauline Krawczyk.
Krawczyk was injured during the LFB challenge round final and is scheduled to have an operation this week.
The national coach has also decided to use the preparation period which starts on 5th August in Alpe d'Huez as preparation for EuroBasket Women 2011. This first training camp will give him an opportunity to bring new players into his group.
He has called up seven players born after 31 December 1988 because France are looking ahead to the 2012 Olympic games.
Jean-Pierre De Vincenzi who is the French National director for French Basketball confirmed that the long-term strategy for the current European Champions is London 2012.
The 24 players called up are as follows:
Marielle AMANT, Arras
Clémence BEIKES, (57 selections), Saint Amand (NF1)
Virginie BREMONT, Armentières
Ana CATA-CHITIGA, Villeneuve d'Ascq
Jennifer DIGBEU, (19 selections), Bourges Basket
Céline DUMERC, (122 selections), UMMC Ekaterinburg (Russia)
Elodie GODIN, (75 selections), Cras Basket Taranto (Italy)
Emilie GOMIS, (113 selections), Villeneuve d'Ascq
Johanne GOMIS, Arras
Sandrine GRUDA, (51 selections), UMMC Ekaterinburg (Russia)
Pauline JANNAULT, (1 selection), Tarbes
Marion LABORDE, Basket Landes
Anaël LARDY, (14 selections), Bourges Basket
Florence LEPRON, (38 selections), Tarbes
Sarah MICHEL, Arras
Nwal-Endéné MIYEM, (32 selections), Bourges Basket
Emméline NDONGUE, (127 selections), Bourges Basket
Fatimatou SACKO, (6 selections), Tarbes
Yacine SENE, (22 selections), Mondeville
Doriane TAHANE, Nantes-Rezé
Ingrid TANQUERAY, Villeneuve d'Ascq
Diandra TCHATCHOUANG, Maryland (NCAA)
Allison VERNEREY, Duke (NCAA)
Isabelle YACOUBOU-DEHOUI, (53 selections), Tarbes

France will start the preparation for the 2010 FIBA World Championship with a 15-day training camp from Thursday, 5 August until Friday, 20 August in Alpe d'Huez.
The roster is likely to be reduced before the second camp in Deauville between the 24-26 August, which will end with a match against Senegal.
France will then play a series of test matches before heading out to the World Championship.
---
Return from FIBA new bulletin to International basketball Federation page
GO Back to the top of the page
---
Picture credits:
womensbasketball-in-france.com

Date created: 7 June 2010
---