---
---
In the 2010 edition of the Fiba Europe U20 European Championship Women Division A competition, Russia beat Spain (75-74) in the final while France lost against Latvia (49-53) and leave empty-handed for the first time in this competition.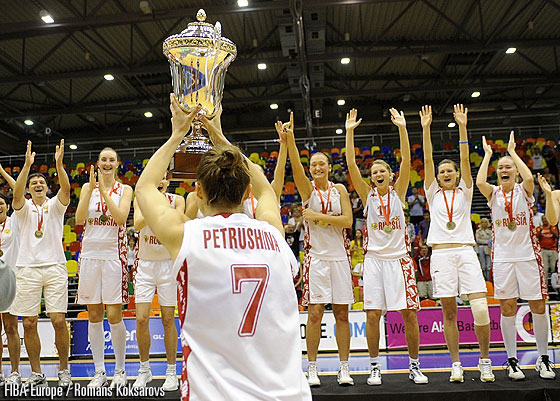 Russia are the champions
After a (14-10) lead by Spain, Russia's Veronika Dorosheva and Anna Ostroukhova put their team in front to never look back. Spain worked hard with Marta Xargay and Christina Ouvina to bring their side back.
But then Russia hit more three-pointers by Yana Panevina, Anastasia Logunova and Anastasiya Shilova to keep their opponents at bay.
Shilova had 21 points while Logunova and Tatiana Petrushina contributed 12 and 10 points each for Russia's victory.
For Spain four players were in double digits, led by Ouvina with 24 points, followed by Xargay with 16 points while Marta Tudanca and Amaya Gastaminza scored 10 points apiece.
---
In this Fiba Europe U20 European Championship Women Division A event, the Most Valuable Player award was given to Russian Anastasia Logunova while the other members in the All-Tournament team included Tatiana Petrushina from Russia, Marta Xargay from Spain, Alina Iagupova from Ukraine and Sabine Niedola from Latvia.
---
Latvia got bronze
Despite the fact that France were leading for 36 minutes, Latvia's better free-throwing and their domination in the paint, allowed them with a (16-2) run with Anete Steinberga and Sabine Niedola combining for 10 points to tie the game. After the 37th minute a three-pointer by Anete Klintsone pushed her side to finally go ahead and win the third place medal.
France's weakness on the offensive end might have lost them their medal. Although Margaux Okou Zouzouo and Laurie Datchy were scoring three-pointers in the last few seconds of the match, Latvia were 2 points ahead of them and due to their free-throwing sealed their fate.
For Latvia Steinberga and Niedola were the only players in double digits with 14 and 12 points respectively.
HHadydia Minte (13 rebounds) and Okou Zouzouo top scored for France with 11 and 10 points each.
---
---
Remaining results from the last day
for 5th place:
Lithuania 64-82 Ukraine

for 7th place:
Serbia 46-68 Turkey

for 9th place:
Romania 68-75 Germany

for 11th place:
Sweden 80-51 Bulgaria

---
looking back at who qualified for the final
looking back at who qualified for the quarter-finals
Return from international youth basketball news to FIBA international youth competition index
Go to Women Playing Basketball In France Home Page
---
picture credits:
FIBA Europe
Date created: 25 July 2010
---