The Netherlands Basketball Federation FIBA Europe Youth Development programme has once again come up on top. Last season the Netherlands gained promotion for both teams at U20 level and for the U16 women.
In beating Greece, the Netherlands U18 women will move up a division next season.
Ria Bröring who has coached the U18 programme for a number of years was so disappointed with what happened to her team in 2009, that she was not sure if she would do the job again. Her team lost out on point average and found themselves playing in the lowest classification group.
In addition Zera Butters had then been injured badly during their last match.
The Netherlands trailed for most of the match against Greece. But with some excellent defending and an aggressive player-to-player marking system and an inspired Marlou de Kleijn the teams were level (46-46) going into the final quarter.
De Kleijn scored 7 straight points for the Netherlands to give her team (57-50) a slight advantage with five minutes to play.
The end of the match was not pretty with Anastasia Slouka and Artemis Spanou fighting back for Greece. Yet the Netherlands held on to win (60-57) and for the 93 generation this is a second promotion.
In the first semi-final Romania survived a final-quarter fightback from Belarus to win (62-60).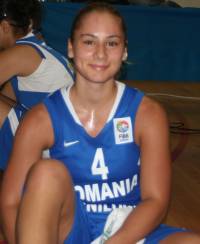 Romania went into the final quarter leading (51-41) and yet with five minutes left to play the game was all square (52-52).
Gabriela Cursaru (right) came to the rescue of the hosts as she took on Belarus by herself. She ran herself to exhaustion so that she missed her last 4 free-throw attempts. However she scored enough points for her team to win the match.
Cursaru and Cristina Bigica scored 18 points each as Romania ended the perfect record of Belarus.
Maryia Filonchyk scored 17 points for Belarus.
---
Look back on the news from the second day of the qualification round - day 7
All the results from day 8:
Croatia 60-68 Greece
Belarus 81-76 England
Denmark 56-65 Romania
Netherlands 66-56 Finland

Germany 57-46 Portugal
Switzerland 47-50 Bosnia and Herzegovina
Montenegro 55-61 Bulgaria
Estonia 48-55 Israel

---
Return from international youth basketball news to FIBA international youth competition index
Go to Women Playing Basketball In France Home Page
GO Back to the top of the page
---
Global Vision FIBA Europe U18 European Championship picture credits:
womensbasketball-in-france.com
Date created: 08 August 2010
---