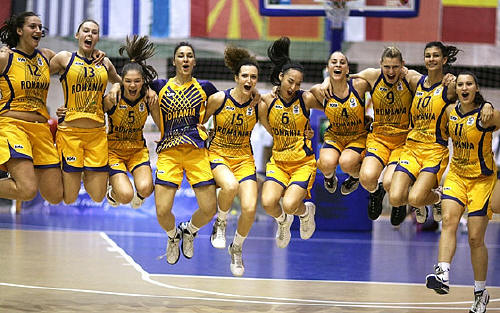 Romania, the hosts of the 2010 Global Vision FIBA Europe U18 European Championship Women Division B, booked their ticket for the semi-final by beating Denmark (65-58) to finish second in their group.
Romania took control of the game during the second quarter to go into the locker room leading (41-30).
Cristina Bigica led the scoring for the hosts with 16 points while Sonia Ursu added 12 points.
For England it was not a case of "defense hustle" but "no more turnovers please".
They were never in control of the game against Belarus. Yet they went into the final quarter leading (58-56).
They committed 6 turnovers at crucial times during the final quarter that came back to hurt them as Belarus took hold of the game during the last four minutes to win the game (81-76).
Nadzeya Bohdan from Belarus and Temitope Fagbenle led their teams in scoring with 24 points each.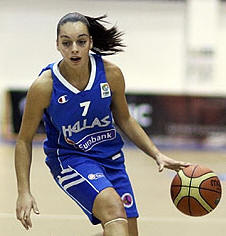 England's chance of qualifying for the semi-final was taken by the Netherlands who blitzed Finland in the first quarter (27-13) and hung on to the victory (66-56) with 17 points coming from Petronella Kraaijenoord.
Croatia gave Greece a scare early on leading (31-30) at the interval. However Greece came through with 20 points and 15 points from Artemis Spanou and Georgia Kantara (left) to win (68-60).
All the results from the second day of qualification round action are:
Croatia 60-68 Greece
Belarus 81-76 England
Denmark 56-65 Romania
Netherlands 66-56 Finland

---
Classification round results:
Switzerland 47-61 Germany
Bosnia and Herzegovina 59-46 Luxembourg
Estonia 60-74 Montenegro
Israel 63-39 Scotland
Look back on the news from the first day of the qualification round - day 6
---
Return from international youth basketball news to FIBA international youth competition index
Go to Women Playing Basketball In France Home Page
GO Back to the top of the page
---
Global Vision U18 European Championship picture credits:
FIBA Europe
Date created: 07 August 2010
---