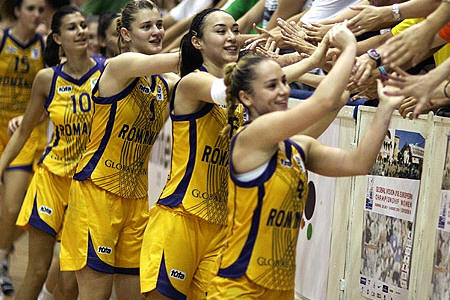 The Fiba Europe U18 European Championship Women Division B in Timişoara did not generate as much publicity as the 2009 edition in Eilat.
However unlike in 2008 and 2009, when the hosting nation failed to gain promotion, Romania not only gained promotion but also took away the trophy.
In 2007 when Romania last hosted the tournament Romania were beaten in the final by Croatia.
The final between Romania and the Netherlands had everything, tension, excitement, drama and ended on a buzzer beater.
The match was evenly contested from the tip-off with Romania having the best of the early exchange (11-4).
Romania maintained the advantage till the end of the first quarter (18-13).
The Netherlands opened the second quarter with a 7-0 run to go in front (20-18) with just over 12 minutes played.
The lead changed hands on several occasions for the rest of the quarter. The Netherlands went into the locker room ahead (32-30).
The third quarter can be described as up and down the court, "first you score and then I score". Romania went in front on the 22-minute mark and stayed in front all the way to the end of the quarter (43-41).
The final quarter was end to end basketball with both sides taking risks. The Netherlands appeared to have gained the upper hand. But a big three by Oana Baluta with money-time approaching got the home supporters on their feet.
The Netherlands still leading (57-56) could not stop Gabriela Cursaru. Even when they succeeded Baluta was on hand to score from behind the arc.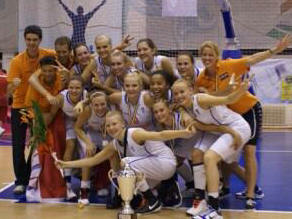 The Netherlands did not panic and with ice cold precision Marlou de Kleijn hit a couple of free-throws (61-61) to set up a grand stand finish with about 20 seconds left to play.
A time-out was called and whatever was discussed did not work for either side, fouls not called, a scramble then a foul.
Romania then had the last chance to end the game in regulation time and Cristina Bigica with her 16th point of the game won the match.
Cursaru led the scoring for Romania with 21 points while de Kleijn from the Netherlands had 18 points.
---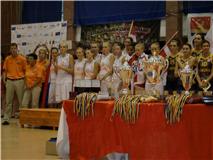 In the match for bronze Greece overturned an 8-point half-time deficit to beat Belarus (52-48) with 25 points coming from Anthoula Chatzigiakoumi.
The tournament MVP award went to Greece's Artemis Spanou, while the all-tournament team was made up of Cristina Bigica and Gabriela Cursaru from Romania, Zera Butter from the Netherlands, Belarus player Maryia Filonchyk and Miss double-double from England Temitope Fagbenle.
Look back on the news from the semi-final day - day 8
All the results from the final day:
Netherlands 61-63 Romania
Greece 52-48 Belarus
Croatia 78-48 Denmark
Finland 62-53 England
Germany 69-55 Montenegro
Portugal 78-71 Israel
Bosnia and Herzegovina 68-75 Bulgaria
Luxembourg 50-34 Scotland

---
Return from international youth basketball news to FIBA international youth competition index
Go to Women Playing Basketball In France Home Page
GO Back to the top of the page
---
Global Vision FIBA Europe U18 European Championship picture credits:
womensbasketball-in-france.comFIBA Europe
Date created: 08 August 2010
---