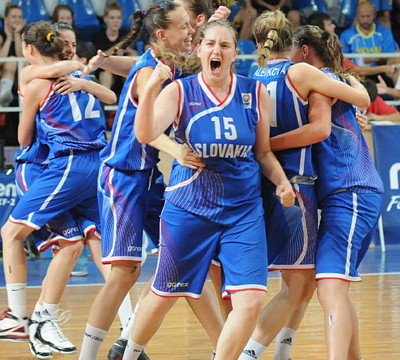 The semi-final night in all FIBA Europe Division B events is actually promotion night.
Hungary saw off England (65-50) in the first semi-final game.
England's troubles at the free-throw line from the quarter-final continued during the first 20 minutes of the game as they managed just 4-from-16 attempts.
Hungary shot 7-of-8 from the line as they dominated the first half of the match (33-20).
Hungary ended the match as a contest leading (48-24) with 27 minutes played.
Janice Monakana from England scored 6 points for England which included a perfect 4-of-4 from the free-throw line to reduce England's deficit (36-50) going into the final quarter.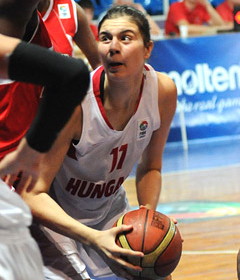 Regina Pap (right) and Fanni Szabó (above) did most of the scoring for Hungary as they paced themselves to victory with 20 and 16 points respectively.
England finished the match going a perfect 6-of-6 from the foul line. But it was not enough to challenge Hungary.
For the second time in their history England lose a semi-final match and promotion.
Monakana who went 10-of-12 from the line led the England scoring with 16 points, she also had 16 rebounds.
---
The Slovak Republic had to work hard to get by Portugal (62-53) in the other semi-final.
Barbora Bálintová (left) led a balanced attack with 16 points. Nikola Dudásová, Michaela Raková and Simona Marcová added 14, 12 and 10 points respectively.
Portugal's scoring came from Mafalda Barros and Ines Viana who both scored 15 points each.
The game was close all through the first half with neither team able to impose.
The lead changed hands on several occasions before the Slovak Republic took it for good heading into the locker room (35-32).
Bálintová hit 3 three-pointers in a row for the Slovak Republic as her side took command of the game during the third quarter (46-37).
The teams continued to trade three-pointers in an exciting final quarter that was always controlled by the Slovak Republic.
---
Results from the matches on day 8:
Hungary 65-50 England
Portugal 53-62 Slovak Republic

Romania 50-52 Bulgaria
Germany 51-36 Slovenia

Switzerland 44-38 Macedonia
Luxembourg 49-62 Ukraine

Look back on the news from the quarter-finals
---
Return from international youth basketball news to FIBA international youth competition index
Go to Women Playing Basketball In France Home Page
GO Back to the top of the page
---
FIBA Europe U16 European Championship Women picture credits:

FIBA Europe

Date created: 21 August 2010
---