Skopje has hosted several FIBA Europe youth basketball European Championships in recent years, and the stories are always the same: it is too hot to play good basketball.
This is what any coach will tell you about playing basketball in Skopje and that is they lost on that day.
This has to be the reason that so many free-throws have been missed or that players who normally hit three-pointers have had no luck. It is also so hot that the players have struggled to put away open lay-ups.
Despite all of this there have been many good moments during the 2010 European Championship for Women Division B and three of the four quarter-final matches had more than enough suspense.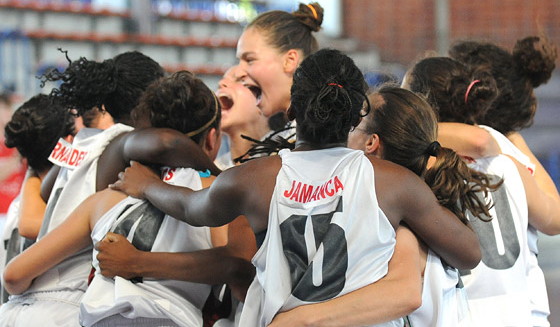 Portugal have one of the best youth programmes in Division b. They present teams in all the age groups every year. When it comes to three-point shooting you will always find players from Portugal in the top 10.
Portugal's roller coaster ride to the quarter-final gave Germany the tag of favourite for this match.
However straight from the start Portugal did not allow Germany to settle and opened up an early lead (9-2).
However the German pair of Noémie Rouault and Carla Bellscheid turned things around for Germany to edge the first quarter (17-15).
Melina Knopp fired in a three-pointer early in the second quarter and Germany appeared to be on their way.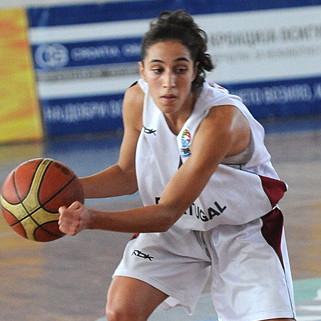 Portugal changed tactics and held back from shooting from distance and went on fast break after fast break to go into the interval ahead (34-29).
Germany were forced to step up their game during the third quarter and reduced the deficit to a single point.
Ana Neves, the Portuguese head coach, decided it was time for her players to start hitting three-point shots.
Ines Viana (right) and Letícia Fonseca answered the call as Portugal went into the final quarter leading (47-37).
Mafalda Barros continued the three-point show with a couple early in the final quarter before Raquel Jamanca finished off Germany for good with her team's 7th three-pointer of the game (60-50) with 90 seconds left to play.
Germany who shot better and controlled the rebounds were unable to make up the deficit. They saw their chance of an immediate return to Division A disappear (54-63) despite a game high 20 points from Rouault.
---
In the second semi-final, everybody should remember that England missed 10 free-throws in the last 75 seconds and still beat Bulgaria (62-58).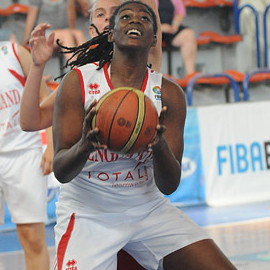 Cheridene Green (left) was the hero for England as she scored 25 points and took 15 rebounds. Due to the fact that both sides missed more free-throws than they made the score remained close right to the end.
Hungary took no chances against Romania and raced out to an (11-1) lead early on and never looked back. Once again Amadea Szamosi was the match winner with 21 points and 22 rebounds as Hungary qualified (65-50).
The Slovak Republic did not have it all their way against Slovenia despite leading (17-8) by the end of the first quarter.
Angelika Slamová led the Slovak Republic attack with 19 points and also picked up 10 rebounds. Alina Gjerkes also scored 19 points for Slovenia.
Slovenia played well for the remaining three quarters but were unable to take hold of the game long enough to put their opponents in trouble.
Portugal and England are looking for their first promotion at U16 level while Hungary and the Slovak Republic have played in the elite division on numerous occasions.
---
The 2010 FIBA Europe U16 European Championship Women Division B semi-final draw is as follows:
Portugal vs. Slovak Republic
England vs. Hungary

Results of the quarter-final matches:
Portugal 63-54 Germany
England 62-58 Bulgaria
Hungary 65-50 Romania
Slovak Republic 70-60 Slovenia

Remaining results of the day:
Latvia 66-34 Ireland
Israel 67-56 Denmark
Ukraine 50-43 Switzerland
Macedonia 48-37 Luxembourg

Look back on the news from the last day of the qualification round
---
Return from international youth basketball news to FIBA international youth competition index
Go to Women Playing Basketball In France Home Page
GO Back to the top of the page
---
FIBA Europe U16 European Championship Women picture credits:

FIBA Europe

Date created: 20 August 2010
---