Italy, hosting the European Championship Women U20 basketball tournament, opened with a win
---
---
The region of Abruzzo adds the FIBA Europe European Championship Women U20 basketball tournament to their already impressive list of hosted competitions.
In 2006 Italy's U18 women team won promotion to division A in the finals in Chieti. It was then the turn of the U16 women in 2007 to win promotion when the finals were also held in Chieti.
The Italian record in international youth basketball tournaments in this region of Italy should have been a sufficient warning for the French U20 side.
Italy had been beaten by more than 30 points by France a week ago and yet opened their European Championship Women U20 2008 division A campaign with a (57-51) victory.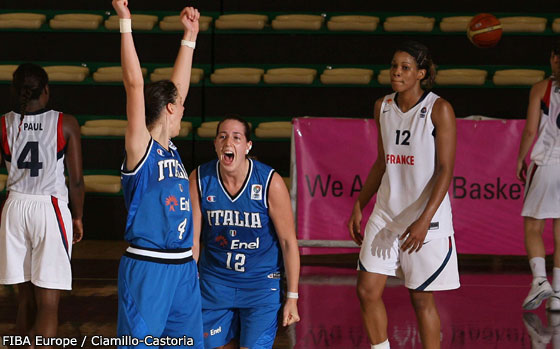 Italy came out firing and within three minutes led (11-3). France then picked up and came to within 1 point of their host as Mélanie Arnaud hit one from behind the land of many.
France's revival was short lived as Giulia Gatti hit a three-pointer for Italy as her side took control of the final two minutes of the first period to lead (19-12).
Italy stretched their advantage to 10 points early in the second period (24-14). Marielle Armant (15 points) was leading the French team and soon got her team-mates fired up as they reduced the deficit. However Italy were in front (29-25) at the interval.
France forced to chase the game and drew level within 90 seconds into the third period after Carine Paul (12 points) hit two consecutive three-pointers (31-31). Sabrina Cinili (11 points) came to the rescue of Italy as she single-handedly took on France with 9 straight points (43-35).
Italy went into the final quarter leading (43-37). But with just over seven minutes left to play the teams were level again (44-44).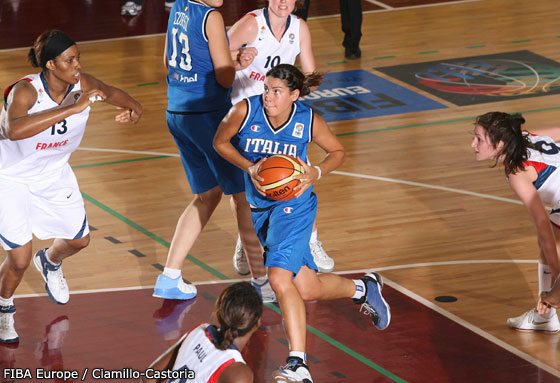 The turning point in the match was the moment when Paul had the chance to put France in front for the first time in the match from the free-throw line. She was to miss both shots. On the resulting play Arianna Zampieri (left) put Italy back in the lead for good.
Zampieri who top scored with 16 points for Italy put France in further trouble as she finished a nice Italian move with a three-pointer (50-44).
France still had three minutes to save the game. When Paul hit her third three-pointer of the night they still had a chance of victory. However Chiara Consolini (14 points) took over offensive duties for Italy. In money-time she hit the knock-out blow for France with a shot from beyond the arc (54-47). Yet the French side did not give up and attacked Italy but were unable to make up the deficit.
In the other match from the same group Serbia cruise-passed Germany (74-44).
Return from European Championship Women U20 Basketball to "What's New" page
Return from European Championship Women U20 Basketball to youth international basketball index
picture credit:
FIBA Europe

Date created: 11 July 2008
---