UMMC Ekaterinburg reamain unbeaten in EuroLeague Women
---
---
It was almost like old times for this EuroLeague Women match with
Laurent Buffard
and
Jacky Moreau
in the hall.
However the main difference is that they were sitting on the visitors' bench alongside Sandrine Gruda.
This was a different UMMC Ekaterinburg from the team that visited France last season when they played then USVO, this season UHB.
Yet the end result was the same as Buffard's team left as the winners.
UMMC lead their group with five wins and are two games clear of Ros Casares and are just one of two teams still undefeated in this season's EuroLeague Women competition.
UHB with two wins in five games are tied with Jolly JBS Sibenilk and LOTUS PKO BO and need to do better than their direct opponents in order to secure qualification for the second phase.
---
EuroLeague Women match report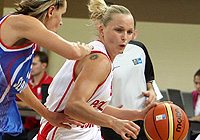 Deanna Nolan got the game off to a flying start with a three-pointer with less than 15 seconds on the game clock.
Laurent Buffard's team dominated the first two minutes of the match as Nolan, Agnieszka Bibrzycka (right) and Sandrine Gruda all scored in a perfect display of offensive shooting to lead (9-0).
Union Hainaut Basket weathered the first two minutes and got back into the match with back to back treys from Kathy Wambe and Vedrana Grgin Fonseca.
The pace suddenly dropped as both sides adopted similar defensive systems.
Asjha Jones was on hand to score a couple of baskets for UMMC while Wambe did all the scoring for UHB as the homeside came to within 2 points.
Cappie Pondexter ended the Jones-Wambe show when she was fouled by Grgin Fonseca.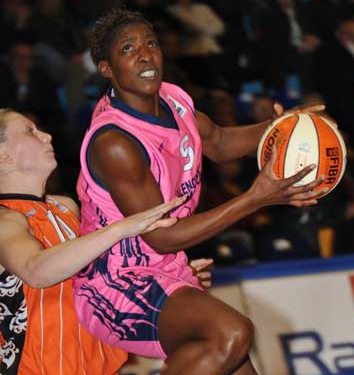 She then opened her account from the free-throw line. Yet UMMC were unable to get back into their stride and UHB managed to draw level with 2 points from Sabrina Palie (left) and a pair of free-throws by Bernette Ngoyisa (17-17) to end the first period level.
Maria Stepanova on her EuroLeague Women début for UMMC finally got on the score sheet after a mix-up in the UHB defense.
Then defense was the order of the day for almost two minutes. The only score came from Palie from the free-throw line.
The game finally came to live as the teams traded five three-pointers with Mélanie Plust and Sabrina Reghaissïa for UHB.
Meanwhile Bibrzycka scored three three-pointers for the guests as her side maintained their advantage (30-25).
The three-point festival was briefly brought to a halt with UHB making trips to the free-throw line with Laëtitia Kamba and Chioma Nnamaka.
Bibrzycka then went on to score her fourth trey of the period before handing over the offensive duties to Svetlana Abrosimova who obliged with 4 points.
UHB stayed in contact with their hosts with various trips to the free-throw line and trailed by only 4 points at the interval (35-39).
---
---
A cautious start by both sides to the third quarter kept the supporters glued to their seats for the first minute.
Then Bibrzycka hit a shot from her favourite distance. UHB immediately changed their approach and became more adventurous.
Reghaissïa was first to score. This was quickly followed by a three-pointer from Grgin Fonseca off the good work from Wambe (40-42).
UMMC then went to work inside with Gruda and Jones scoring from the field. Gruda also split a pair as her side gave the impression that they were to take off (47-42).
UHB had other ideas and managed to stay in contact with their guests despite Bibrzycka hitting another trey.
However a three-pointer from Penny Taylor, her first points of the game, put an end to the good work of the hosts as they went into the final quarter trailing (48-57).
Stepanova was making up for lost time in final quarter
UMMC attempted to end the game as a contest quickly by 2 points from Stepanova followed by 3 points from Taylor pushing their advantage to more than 10 points (62-48).
UHB tried to bring the score down but were forced into turning the ball over time and time again. By the time Fabrice Courcier called a time-out UHB were trailing (67-53).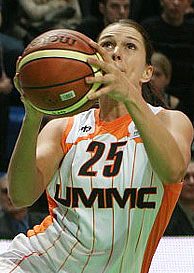 Stepanova and Abrosimova (right) finally broke the resistance of UHB with back to back baskets (71-53).
UHB huffed and puffed while Bibrzycka hit her 7th three-pointer of the evening and UMMC strolled to win (85-65).
Bibrzycka led the scoring with 23 points which included 7-of-11 from beyond the arc. Abrosimova scored 14 points, Stepanova 10 points in 12 minutes and Jones 10 points.
Ngoyisa led the scoring for the home side with 17 points. Palie and Wambe also notched up double digits scores with 14 and 10 points each.
---
Return from EuroLeague Women match report to Women playing basketball blog
Return to EuroLeague Women Index page
EuroLeague Women picture credits:
FIBA Europe
Date created: 13 November 2008

---