Laurent Buffard led UMMC to Euroleague Women Final Four
UMMC Ekaterinburg swept CSKA 2-0 in the first all Russian quarter-final to book their place in the semi-final (final four).
The game was played at a quick pace from the tip-off and with barely two minutes on the scoreboard the teams were tied (6-6).
Agnieszka Bibrzycka (in picture) then came into action for UMMC with a trey and a pair from the charity stripes to start a 9-0 run for UMMC (15-6). CSKA hit back immediately with a 8-0 run. This resulted in Buffard calling for a time-out (15-14).
The teams continued to exchange basket for basket. UMMC finished the first period leading (24-19) thanks to a Kristi Harrower long range jumper from down-town.

CSKA had no other option but to fire shots from down-town
The exchange of baskets continued in the second quarter. UMMC held on to their advantage (31-27) and were able to stretch it to 12 points at one stage.

Ann Wauters came to CSKA's rescue with back to back scores towards the end of the quarter. Edwinge Lawson-Wade completed the CSKA 6-0 run to reduce their deficit at the interval to (39-45).

By the eighth minute of the third period UMMC had a 14-point lead (62-48). CSKA had no other option but to fire shots from down-town.

Becky Hammon was unlucky at her attempt. Yet Nicole Powell and Amaya Valdemoro hit big shots from beyond the arc. CSKA then continued their offensive attack from within the arc with Maria Stepanavo, Lawson-Wade and finally Hammon with three-point-plays to complete a 13-0 run.

Bibrzycka ended the onslaught with her only points of the quarter. She put a trey giving UMMC a 4-point cushion for the final period (65-61).
Hammon responded with a trey to make it a 2-point game
The last ten minutes were nerve-racking. Hammon scored 16 points for CSKA with 13 of them coming in the last 3 ½ minutes.

In fact both sides were exchanging three-pointers, Powell first for CSKA followed by Penny Taylor for UMMC. CSKA eventually drew level (68-68) off an inside jumper by Stepanova.

Caroline Aubert then stepped up for the home side with 8 quick points which included a couple of three-pointers. Still the festival of long-distance shooting continued.


Taylor and Bibrzycka hit a couple more treys for UMMC and by the time Yelena Leuchanka made a pair of free throws, it appeared that UMMC had the game in hand leading (84-75).

With 3:25 left on the clock, Hammon started her festival and within 59 seconds UMMC's advantage had evaporated to 2 points (84-82).

Buffard called for a time-out. He decided to leave Aubert off and bring Harrower on. A tactic that paid off initially as Harrower troubled Hammon forcing her into a travelling violation. More significantly CSKA were unable to score for more than 60 seconds.

Then Sandrine Gruda managed to score for UMMC (87-82) during this slack period. At the same time she fouled out Stepanova. Hammon responded with a trey to make it a 2-point game with one minute left to play.
With Steponava out of the equation Gruda was able to muscle her way into the paint and was fouled. She held her nerve to sink a couple more free throws (89-85). With 30 seconds remaining it was the turn of Bibrzycka to go to the foul line for UMMC. She made no mistake (91-85).
Anne Wauters who had been quiet for most of the second half completed a nice move by Lawson-Wade (Number 8 in picture). However she was unable to make it a three-point play by missing the free throw.
Leuchanka was successfully up next at the free-throw line for UMMC. Hammon responded with a three-pointer. She then had no choice but to foul Harrower so as to stop the game clock.
With nine seconds remaining Harrower made the first free-throw but missed the second one. Yet Gruda picked up the rebound and with that the game ended in a victory for UMMC (94-90).
---
---
Spartak Moscow are back to defend EuroLeague Women title
Spartak Moscow did not allow the hosts Dynamo Moscow to lead at any time in this match.
Spartak led (25-14) after the first period. However similar circumstances to the first game they allowed their opponents to come back in the second period.
Dynamo reduced their deficit to a single point (26-27) at the midway point of the second quarter. This was as close as they got because Lauren Jackson went on the rampage. She sparked her team mates as they opened up a gap of 12 points by the break (50-38).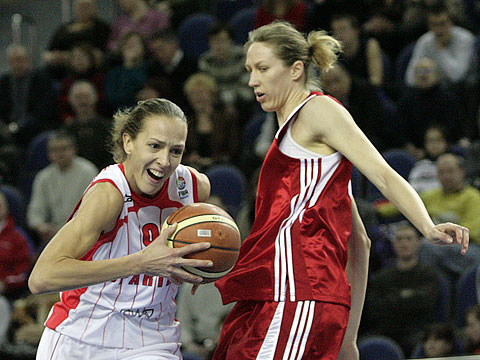 Spartak's domination finished the game as a contest by the end of the third period (73-48) and they went on to win comfortably (98-58).
Tatiana Shchegoleva (in picture)led the scoring for Spartak with 19 points. Jackson and Diana Taurasi scored 16 points each and were joined in double digits by Sue Bird with 14 and Tina Thompson with 11 points.
Dynamo's leading scorer was Nuria Martinez with 14 points. Seimone Augustus added 12 points.
---
Bourges Basket have qualified again for EuroLeague Women final four
Sonja Petrovic took less than three seconds to put her name on the score sheet with a three-pointer. The game was played at a fast pace for the rest of the period with Bourges holding out (19-16).
There was no change in the way the game was played in the second quarter with both sides trading basket for basket throughout. Bourges went into the break with a 3-point lead (34-31).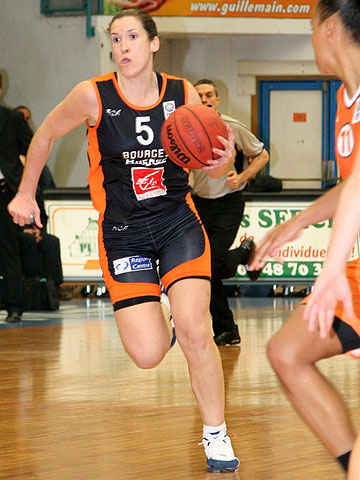 The two teams continued to exchange basket for basket until midway through the third period with Bourges still leading (45-43).
Bourges finally broke the sequence with a three-pointer by Belinda Snell (in picture) quickly followed by a tap-in by Sonja Kireta off her own offensive rebound. Although Sviatlana Volnaya hit a pair from the free-throw line for the hosts Florence Lepron restored the 7-point advantage for Bourges (52-45).

Bourges stretched their lead to a maximum of 11 points early in the final period (61-49). Yet Fenerbahce reduced their deficit slightly as the game entered money-time (62-70).
Cappie Pondexter who was having a great last quarter then took it upon herself to save the game. She started with a three-pointer, then she made a steal off a poor pass by Endene Miyem. Afterwards she was fouled and made no mistake from the free-throw line. Pondexter's next act was to swipe the ball away from Céline Dumerc and then run up to the other end to score.
With only 16 seconds remaining and Bourges leading (70-69) the game went into the period of let's stop the clock by fouling each other and see who can shoot free-throws better.
Pontexter started the series with a foul on Dumerc, who then went on to convert her free-throws. Afterwards it was the turn of Cathy Melain to foul somebody. She chose Birsel Vardarl who also hit her free-throws with six seconds left on the clock.
Dumerc was back on the free-throw line for Bourges and she made no mistake. With just under a second left to play Pontexter was fouled instead of letting her set up a three-point attempt to tie the game. She made the first and missed the second free-throw intentionally but her team mates were unable to pick the rebound and the game was over.
Bourges led from start to finish to win (74-72) to book their place in the EuroLeague Women final four.
Pontexter hit 16 points in the final period and led all scoring with 31 points in a losing effort. Snell was the best scorer for Bourges with 20 points.
---
EuroLeague Women 2008 quarter-final match two scores
UMMC Ekaterinburg 94-90 CSKA Moscow


Dynamo Moscow 58-98 Spartak Moscow Region


Gambrinus Brno 65-55 Ros Casares

Fenerbahce 72-74 Bourges Basket

EuroLeague Women quarter-final decider to be played, March 5

Return from EuroLeague Women to "What's New" page

Return from EuroLeague Women to LFB Basketball News

Look back at the EuroLeague Women quarter-final game one reports here

EuroLeague women pictures are courtesy of FIBA Europe

Date: 29 February 2008
---