Although Bourges were not as fluid offensively and started to miss their shots, they were able to maintain their advantage due to the generosity of their guests. Fenerbahce only managed 12-of-20 from the charity stripes by the interval (44-34).
The third period was almost a replica of the second one with Bourges maintaining their 10-point lead (64-54).
Fenerbahce had nothing more to offer and allowed Bourges to win the first game (85-69).
Pondexter finished the game with 23 points.
UMMC Ekaterinburg got it right in the first leg
CSKA Moscow suffered their first loss of the season in a dramatic fashion at the end of a closely fought match against Russian super league rivals UMMC Ekaterinburg (74-81).
In a sea-saw battle in the first half, the hosts CSKA managed to open up a 7-point game early in the second period (32-25). Ekaterinburg did not panic and reversed the situation by taking the lead (41-37) as half-time was approaching.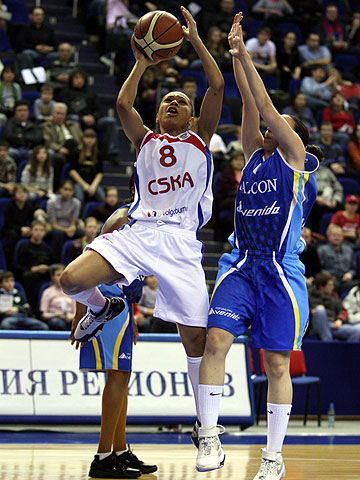 Ekaterinburg were unable to extend their advantage due to foul problems. This situation allowed the hosts several trips to the free-throw line. Ekaterinburg eventually lost the lead as Kristi Harrower's pass did not reach its destination and Amaya Valdemoro found herself with the ball. She eventually fed it to Edwinge Lawson-Wade (left) who in turn hit a trey which was the last score of the first half. The home side was then back in front (44-43).

With Sandrine Gruda and Yelena Leuchanka on three fouls, UMMC were at a disadvantage just after the interval. CSKA used this and moved away (51-45). Despite both players picking up their fourth foul during the third quarter their side managed to reduce their deficit to a single point as the game reached its final stanza (59-60).
Deanna Nolan who had only scored 2 points in the game had the satisfaction of putting UMMC back in front for good with a trey to open the final period (60-62).
CSKA had a frustrating time. Also Maria Stepanova did not have a productive evening and her side were unable to find a solution allowing Laurent Buffard to walk away with the victory.
Penny Taylor led the scoring for UMMC with 18 points while Gruda and Asjha Jones scored 15 apiece.
CSKA had four players in double digits with Valdemoro leading the way with 17 points. Wauters finished with 16 points and 11 rebounds. Becky Hammon and Lawson-Wade finished with 12 and 11 points respectively.
---
Lauren Jackson made the difference in the Moscow Derby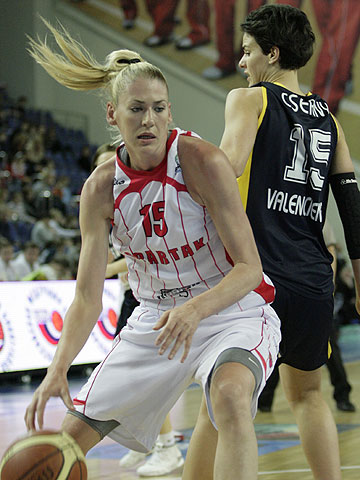 Lauren Jackson (in picture) from Spartak finished with a game high 29 points in her side's victory against local rival Dynamo Moscow. Jackson's total was the difference in score between the two teams as Spartak won (96-67). They are now just one victory away from qualifying for the EuroLeague Women 2008 final four.
Without Anete Jekabsone-Zogota, unavailable until the beginning of March with a shoulder injury, the last thing that Dynamo required was a Jackson and Tina Thompson show.

Jackson and Thompson scored the first 11 points for Spartak as they opened (11-0). Spartak were not to have all their way for the rest of the period as Dynamo hit back. Nuria Martinez for the guests was scoring 3 three-pointers and reduced Spartak's advantage to (24-19).
After 13 minutes of play Seimone Augustus brought Dynamo on level terms (26-26) for the only time in the game.
Spartak then stepped on the accelerator. By the interval they had an 11-point lead (51-33). Then the hosts stretched their advantage to more than 30 points by the end of the third period (82-51).
In the final period Spartak switched to cruise control. Thompson was the only other player from the winning team in double digits with 16 points while Irina Osipova and Diana Taurasi scored 9 apiece. Sue Bird and Tatiana Shchegoleva each had 8 points respectively.
For Dynamo Martinez led her team with 20 points and was joined in double digits by Augustus with 19 and Dubrava Dacic with 11 points.
---
First leg results
CSKA Moscow 74-81 UMMC Ekaterinburg
Bourges Basket 85-69 Fenerbahce SK
Spartak Moscow Region 96-67 Dynamo Moscow
Ros Casares Valencia 71-63 Gambrinus SIKA Brno
Return from EuroLeague Women to "What's New" page
Return from EuroLeague Women to LFB Basketball News
EuroLeague women pictures are courtesy of the Ligue Féminine de BasketBall and FIBA Europe
Date: 26 February 2008
---