2010 FIBA Europe EuroLeague Women
All Star Game starters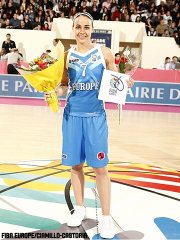 FIBA Europe have announced the ten starters for the 2010 EuroLeague Women All Star game, which is to be held in Gyndia, Poland on Tuesday, 9 March 2010.
The public vote is used to determine which players are selected to represent Team Europe and the Rest of the World.
The FIBA Europe rules stipulate that not more than two players per club are allowed to participate in the All Star game.
The five players with the most votes for the Team Europe and the starters for the game are:

Nevriye Yilmaz, Fenerbahce (Center)
Sandrine Gruda, UMMC Ekaterinburg (Forward)
Agnieszka Bibrzycka, UMMC Ekaterinburg (Forward)
Marta Fernandez, Wisla Can-Pack Krakow (Guard)
Becky Hammon, Ros Casares Valencia (Guard)

Hammon (in picture) was the MVP and three-point shooting contest winner from the 2009 All Star Game.
The five players with the most votes for the Rest of the World are:

G-Diana Taurasi
G-Penny Taylor
F-Nicole Powell
C-Janell Burse
F-Sophia Young

Powell is not selected at the All Star Game because there are already two players from her club
Fenerbahce
ahead of her in the voting.
Cappie Pondexter who plays for UMMC Ekaterinburg who finished sixth in the voting cannot participate for the same reason. As a result Candice Dupree who came next in the voting takes her place in the starting five.
The starting five of the Rest of the World are:

Diana Taurasi, Spartak Moscow (Guard)
Penny Taylor, Fenerbahce (Guard)
Janell Burse, Wisla Can-Pack Krakow (Center)
Sophia Young, Galatasaray (Forward)
Candice Dupree, Good Angels Kosice (Forward)

FIBA Europe will make further announcements about the final rosters and staff for the event in the coming days.
The participants of the three-point shooting contest, which takes place at half time of the game, will be announced during the All Star Game.
---
2009 All Star Game roster released
Return to the EuroLeague Women index
Go to Women Playing Basketball In France Home Page
GO Back to the top of the page
---
picture credits:

Ciamillo-Castoria - FIBA Europe

Date created: 01 February 2010
---