FIBA EuroLeague Women All Star Game to be shown live

The fifth EuroLeague Women All Star Game will take place in Gyndia, Poland on Tuesday, 9 March 2010.

TVP Sport from Poland is broadcasting the game live and FIBATV.com will make the game available free over the internet.
Coverage of the event begins at 19:00 CET (18:00 GMT which is in the following time zones 1 PM ET/7 PM CET/4 AM AEST).
In order to follow the game on FIBATV, you need to register on their website.
The All Star Game is a match-up between women players who participated in the EuroLeague Women competition this season.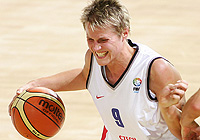 An internet voting system was used to select the players. The starters from each team was announced first.
Since the initial announcement Becky Hammon had withdrawn from the event and has been replaced by Czech Republic international Hana Horakova (right), better known by her maiden name Machova.
Europe
Rest of the World
Nevriye Yilmaz
Diana Taurasi
Sandrine Gruda
Penny Taylor
Agnieszka Bibrzycka
Janell Burse
Marta Fernandez
Sophia Young
Hana Horakova
Candice Dupree
Anete Jekabsone-Zogota
Lindsay Whalen
Clara Bermejo Moreno
Catherine Joens
Alba Torrens
DeLisha Milton
Laura Macchi
Angel McCoughtry
Anna Vajda
Erin Phillips
Ivana Matovic
Rebekka Brunson
Emméline Ndongue
Taj Mc Williams
Europe Coach: Isma Cantó and Assistant Coach: Jacek Winnicki
Rest of the World Coach: Pokey Chatman and Assistant Coach: Dariusz Maciejewski
The officials for the game are: Henrykh Bekish of Belarus who will retire at the end of the current season; and Petra Kremer of Germany who will be officiating for the third time and Fabiana Nitu of Romania.
---
2010 All Star rosters confirmed
Return to the EuroLeague Women index
Go to Women Playing Basketball In France Home Page
GO Back to the top of the page
---
picture credits:

FIBA Europe

Date created: 08 March 2010
---