EuroLeague Women judgement day for Bourges and Tarbes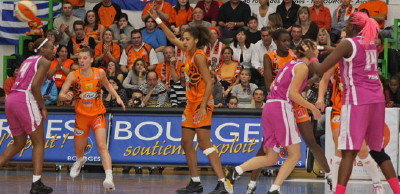 The organisers of the FIBA Europe EuroLeague Women competition must be satisfied that there is still excitement in terms of play-off qualification.
In Group C, the mathematics behind all the possible scenarios for qualifications is enough for an article in itself.
However for Bourges Basket, they are assured qualification if they beat Rivas Ecópolis. In case of defeat they will be eliminated if MKB EuroLeasing beat ZVVZ USK Prague.
Good Angels Kosice confirmed their own qualification last week by beating ZVVZ USK while Rivas Ecópolis qualify as group winners.
In Women Group D, Tarbes have to beat Fenerbahce to have any chance of qualification. In case of defeat they will be automatically eliminated and finish in sixth position.
If either Lotos Gdynia or Szeviép win then Tarbes are eliminated.
Lotos will qualify if they beat Spartak Moscow Region or if both Tarbes and Szeviép are defeated.
---
Return to the EuroLeague Women index
Return to women playing basketball blog
Return to women playing basketball in France home page
Women playing basketball picture credits:

Bourges Basket

Date created: 19 January 2010

---