EuroLeague Women: Spartak Moscow
was given a scare
---
---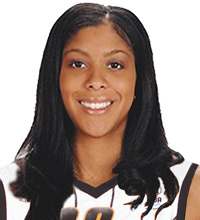 Candace Parker
made her EuroLeague Women for UMMC Ekaterinburg and scored 8 points in their (69-64) road victory against Galatasaray.
This victory means that UMMC finish in first place in Group A.
In the remaining games Ros Casares got past Cras Basket (87-59) while TTT Riga held off TEO Vilnius (59-57).
In the only game from Group B on Wednesday evening Villeneuve d'Ascq fell at home to Halcon Avenida (72-97).
Bourges Basket needed to beat EuroLeague Women Group C rivals AZS-PWSZ Gorzow by more than 10 points to keep their chance of play-off qualification possible in case of identical records at the end of the league phase.

Bourges Basket did better, they won (84-57) while ZVVZ USK Prague lost at home (75-89) to Good Angels Kosice.
It appears that the calculators will be required to work out the final places in this group.
In EuroLeague Women Group D, Tarbes gave Spartak Moscow Region a scare before falling (75-78). You can read our match report here.
Fenerbahce defeated Hungarian club side Szeviép (98-78).
Lotos Gdynia got past Frisco Sika Brno (77-73) in a thrilling match while MKB Euroleasing pulled off a road win (71-67) against Rivas Ecópolis.
Beretta Famila ended the perfect record of Wisla Can-Pack (92-88) with Laura Macchi's perfect shooting from the free-throw line.
MiZo Pécs 2010 have qualified for the next phase of the EuroLeague Women by eliminating Gospic Croatia (90-78).
Select the links below to read the EuroLeague basketball news from all the groups:
1. Group A
2. Group B
3. Group C
4. Group D
5. Results and box scores

---
---
EuroLeague Women Group A - UMMC Ekaterinburg wrapped up group win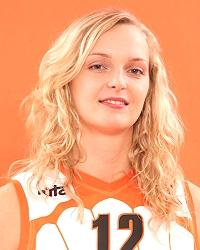 Galatasaray went into the final quarter all square with UMMC Ekaterinburg and went 3 points clear after Esra Şencebe fired in a trey.
UMMC then went on a 9-0 run, starting with Candace Parker and finishing with Sandrine Gruda to finally take control of the game (61-55).
Agnieszka Bibrzycka (16 points) in picture and Cappie Pondexter (20 points) made sure that UMMC won the game (69-64) despite the last efforts of Jia Perkins (23 points).
This victory leaves UMMC as group winners while Galatasary qualify for the play-offs in fourth place.
Ros Casares made up for their away defeat against Cras Basket Taranto with a massive victory (87-59).
Ros Casares were running away with the game leading (26-11) after 13 minutes. Yet Cras Basket picked up and drew level (27-27) after 17 minutes.
Ros Casares regained control and went into the locker room leading (39-31).
Ros Casares increased their advantage progressively and won by a comfortable margin. Amaya Valdemoro led Ros Casares with 20 points and 6 assists.
TTT Riga got 23 points from Kristine Karklina in their victory against TEO Vilnius (59-57).
Return to the top
---
EuroLeague Women Group B - Halcon Avenida, too strong for Villeneuve d'Ascq
Halcon Avenida led from the start to finish in their victory against Villeneuve d'Ascq (97-72).
Villeneuve, playing at home, once again started poorly and trailed by 10 points after five minutes (9-19).
Anke De Mondt connected four times from beyond the arc for 12 points and Sancho Lyttle scored 11 points as Avenida dominated the first quarter (32-17).
Villeneuve d'Ascq battled away for the rest of the game but were unable to get back into the game.
De Mondt finished the game as top scorer with 24 points all coming from beyond the arc. Lady Comfort led the Villeneuve attack with 16 points.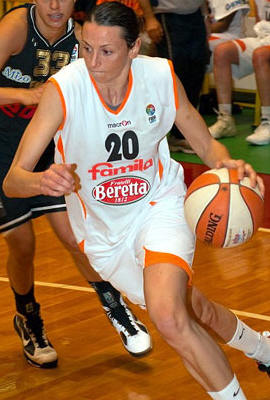 The unbeaten EuroLeague Women series of Wisla Can-Pack Krakow is over after losing on the road to Italian club side Beretta Famila Schio (92-88).
Laura Macchi (right) was the hero with 24 points. She hit 6 free-throws in the last 30 seconds of the game to secure the victory.
In total Macchi was 13-from-13 from the free-throw line. The other star of the match was former French international Nicole Antibe who fired in 21 points.
MiZo Pécs 2010 ended the hope of Gospic Croatia of continuing in the competition (90-78).
Nicole Ohlde was once again in the thick of the action with 23 points and 9 rebounds for the Hungarians.
MiZo Pécs fourth-place finish in the group will see them continue the EuroLeague Women adventure after the group stage ends.
Return to the top
---
---
EuroLeague Women Group C - 26 points for Styliani Kaltsidou for Bourges' win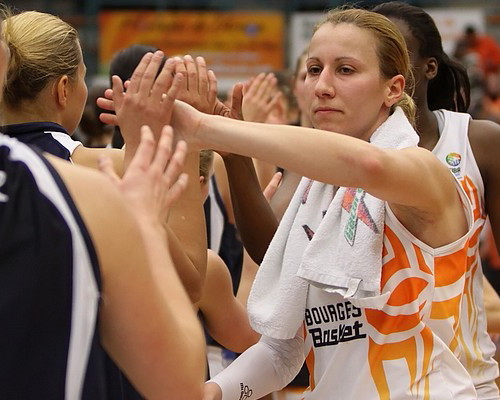 Bourges Basket put together a 13-0 run during the latter stages of the second quarter and early in the third one (36-19). With this they opened the first significant lead of the game against Polish club side KSSSE AZS-PWSZ Gorzow.
Bourges then ended the game as a contest with a series of three-pointers to close the third quarter(62-34). KSSSE AZS-PWSZ needed to reduce the deficit to keep their play-off ambitions alive.
However Bourges Basket were not in a generous mood and only conceded the final quarter by 1 point and won the game (84-57).
This result means that KSSSE AZS-PWSZ are the first team to be eliminated from this group.
Styliani Kaltsidou (in picture above) led the Bourges Basket attack with 26 points and 4 assists. She hit 4-of-6 from behind the arc.
Emméline Ndongue, Essence Carson (3-of-7 from beyond the arc), and Katarina Manic scored 15,13 and 10 points each.
In the second game from this group Angel McCoughtry and Candice Dupree combined for a total of 51 points as Good Angels Kosice won away from home (98-75) against ZVVZ USK Prague.
McCoughtry scored 28 points and took 15 rebounds while Dupree finished with 21 points and 11 rebounds.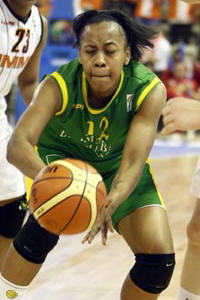 MKB Euroleasing Sopron travelled to Spain to play Rivas Ecópolis and came away with the victory (71-67).
Amber Holt (right), who finished the game with 18 points, put MKB in the lead for good with just under two minutes to play (68-67).
Rivas Ecópolis were unable to score again leaving the victory for their guests.
MKB face ZVVZ USK in the final group game. The winner of this game will qualify for the play-off.

Return to the top
---
EuroLeague Women Group D - New look Lotos Gdynia won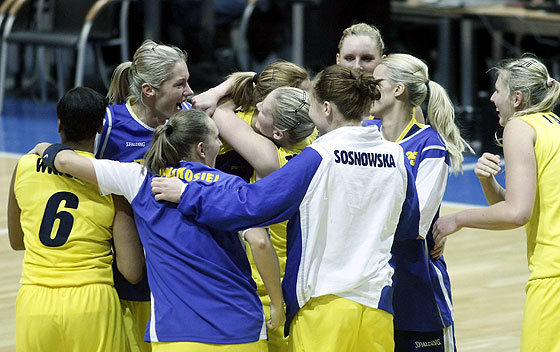 During the Christmas break the Lotos Gdynia roster changed with the departures of Alana Beard, Paulina Pawlak and Emilija Podrug.
The club were able to sign in time Tanisha Wright and Swedish international Luice Halvarsson for EuroLeague Women action.
The good news for the Polish Club is that they beat Frisco Sika Brno (77-73) and move into fourth place in the group.
If they beat Spartak Moscow Region in the last game of the first phase they will qualify for the second phase of the competition.
Tarbes' defeat (75-78) against Spartak Moscow Region make the qualification picture interesting if Lotos Gdynia lose next week to Spartak Moscow.
Tarbes can only qualify if they beat Fenerbahce and Szeviép are defeated by Frisco Sika Brno. However if Szeviép wins then Tarbes and Lotos Gdynia will be eliminated on point average between the three teams.
Return to the top
---
EuroLeague Women Results and box scores
Galatasaray 64-69 UMMC Ekaterinburg
Ros Casares87-59 Cras Basket Taranto
MiZo Pécs 2010 90-78 Gospic Croatia
Beretta-Famila 92-88 Wisla Can-Pack
ESB Lille Metropole 70-97 Halcon Avenida
Rivas Ecópolis 67-71 MKB Euroleasing
ZVVZ USK Prague 75-89 Good Angels Kosice
Bourges Basket 84-57 KSSSE AZS-PWSZ Gorzow
Lotos Gdynia 77-73 Frisco Sika Brno
Tarbes GB 75-78 Spartak Moscow Region
---
Round 8: Wisla Can-Pack and Spartak Moscow Region stay perfect
Return to the EuroLeague Women index
Return from FIBA Europe EuroLeague Women round-up to women playing basketball blog
Return to women playing basketball in France home page
EuroLeague Women picture credits:
basket.ugmk
womensbasketball-in-france.com
FIBA Europe
FIBA Europe: Ciamillo-Castoria
Olivier Martin @ Basquetebol.org

Date created: 13 January 2010
Last Update: 14 January 2010
---