CSKA Moscow are expected to dominate this group. At present they have the most impressive roster.
The Italian sides have struggled in the EuroLeague Women. However they have dominated the EuroCup Women. If Umana can reverse the trend for Italian clubs then the three-way contest between Villeneuve, Riga and them should be interesting.
If the basketball lives up to the clubs' reputations, then the competition between all the teams in this group will be exciting.
Ekaterinburg finished in third place last season. They have acquired the service of Cappie Pondexter for this season. With the arrival of Candance Parker in January, the club's ambitions are clear: qualification for the final four.
The qualification for the second round will not be that simple as they have Ros Casares as opponents. Casares have strengthened their roster with some solid signings. They have also managed to get Amaya Valdemoro and Ana Montañana to come back to their club.
UHB is the new name for USVO. So far they have proved to be the most exciting team in the LFB: whether they win or lose. Once this team gels they could be serious challengers. However they have to get out of the group of death.
LOTOS PKO BP Gdynia have put together an interesting roster this season which could see them also return to the final four.
ZVVZ USK Prague have put together a new roster which has a Bourges touch with Sonja Kireta and Evanthia Maltsi as new editions.
With all the attention on the above five teams Jolly JBS Sibenik once again are under no pressure. If they repeat what they showed last season, they will not be that easy to beat.
EuroLeague Women Group D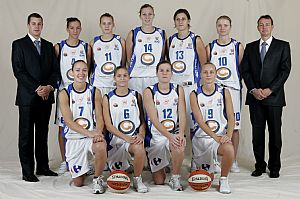 Lattes-Montpellier 2008-2009
Spartak Moscow Region is expected to cruise during the group phase: Laszlo Ratgeber takes over the reigns as head coach. He has a tough act to follow in replacing Natalia Hejkova. Yet the roster he has his team should see him through to the second round.
Behind the defending champions TEO Vilnus, Maxima Brocker Kosice and Fenerbahce are three sides that are very similar. It is difficult to classify them. They all have to cope with the departure of key players but their experience in this competition should also see them through.
Maxima home fans give their side a huge advantage. They may break again the record for the attendance of a EuroLeague game.
Montpellier decided to participate this season in this competition. However this is not the same team that did wonders in the LFB last season. Despite their victory domestically against UHB in the LFB they are expected to struggle this year.
Schio have the ability to do well. They might become the Italian club to raise the profile of Italian basketball in this competition. They have recruited players with experience but like Montpellier are expected to struggle in this group.
Return from EuroLeague Women 2008-2009 Preview to Women playing basketball blog
Return to EuroLeague Women Index page
picture credits: Ligue Féminine de BasketBall
Date created: 14 October 2008

---