Historical EuroLeague Women wins for Montpellier and Nadezda
---
---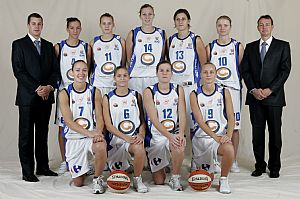 Montpellier have finally won a game in the EuroLeague Women qualification round. They beat Italian club side Beretta Famila (78-73).
Khadijah Whittington gave Montpellier the lead for good (48-47) with 24 minutes of play.
Afterwards Sheana Mosch hit her only three-pointer of the match to spark a 12-5 run for Montpellier to go into the final period leading (62-54).
Mosch finished the game with 20 points, while the player of the match Whittington scored 17 points, had 7 assists and 9 rebounds.
Elodie Bertal also had a good game with 16 points and 8 rebounds.
Nicole Antibe led the attack for the guests with 23 points and 8 rebounds.
Bourges Basket recorded win number five after putting up a strong second half performance against their guests from Poland Wisla Can-Pack to win (72-51).
During the first half Bourges Basket spoilt their good work with a high number of turnovers. They reduced them in the second half but still ended up with 19 turnovers. However their domination in rebounding 42:28 saw them through.
Once again Alessandra Santos was the pick of the Bourges players with 15 points and 10 rebounds.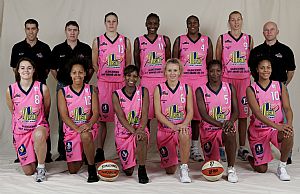 Union Hainaut Basket
, playing at home, had a dream start against Jolly JBS Sibenik to lead (30-15) by the end of the first period.
Union did give their supporters a scare in the final period as they conceded 11 straight points to considerably reduce their advantage (71-65) with just over four minutes to play.
A trey by Chioma Nnamaka ended their opponents' run and put UHB back on track.
Five players from UHB finished in double digits.
Constance Jinks led the way with a game high 24 points for Jolly JBS.
Villeneuve d'Ascq were on equal terms for the first 15 minutes of their match against Gambrinus Sika and trailed by only 3 points (22-25).
But then they went through a bad batch to go into the interval trailing (26-41).
Villeneuve's poor shooting with 36 % from the field did not help their cause as they tried to turn the game around in the second half of the match.
Gambrinus Sika playing at home and with a 50 % shooting success held on to win (61-81).
---
---
EuroLeague Women highlights from around the groups
In a round in which all the home sides won except MBK Euroleasing, the result of the evening belonged to
Nadezhda
as they beat EuroLeague Women Group A leaders Halcon Avenida (83-62).
Betty Lennox on her EuroLeague début took a lot of pressure off Shameka Christon and Anastasiya Veremeenko while scoring 17 points.
The game was close for 21 minutes (42-42). Afterwards Halcon stuggled offensively allowing their hosts to outscore them 16-4 to lead (58-46) going into the last period.
An 11-0 start by Nadezhda more or less ended the game as a contest (69-46) with seven minutes left to play.
As a result of this defeat Halcon drop to second place in the group. They are on the same record with Bourges Basket.
Mizo Pécs beat Besiktas Cola Turka (71-52).
Anna Vadja (right) from Mizo Pécs did most of the offensive damage early on in the game and finished with a double-double, 23 points and 11 rebounds.
In Group B Umana Reyer came from behind in the final period to beat their hosts MKB Euroleasing
(71-65) to maintain their unbeaten record.
In Group C Ros Casares have qualified for the next phase of the competition after beating ZVVZ USK Prague (88-69).
Sandrine Gruda led UMMC Ekaterinburg with 17 points as they beat LOTOS PKO BP (69-51). UMMC are still unbeaten in EuroLeague Women action this season.
In Group D Fenerbahce's victory (84-74) against Broker Kosice has qualified them for the next phase.
Spartak Moscow Region cruised past TEO Vilnius (85-41).
---
All the EuroLeague Women 2008-2009 scores from the seventh round matches:
Nadezhda 83-62 Halcon Avenida
Bourges Basket 72-51 Wisla Can-Pack
MiZo Pécs 2010 71-52 Besiktas Cola Turka

MKB Euroleasing 65-71 Umana Reyer
Gambrinus 81-61 Villeneuve d'Ascq (ESB Lille Metropole)

Ros Casares 88-69 ZVVZ USK Prague
Union Hainaut Basket 80-69 Jolly JBS Sibenik
UMMC Ekaterinburg 69-51 LOTOS PKO BP

Fenerbahce 84-74 Broker Kosice
Lattes Montpellier 78-73 Beretta Famila
Spartak Moscow Region - TEO Vilnius

---
EuroLeague Women basketball news from the six round of games
Return Women playing basketball blog
EuroLeague Women Return to EuroLeague Women Index page.
Picture credits:

Ligue Féminine de BasketBall
FIba Europe

Date created: 27 November 2008

---