The EuroLeague Women round 4 will be quickly forgotten by all sides in the Ligue Féminine de BasketBall (LFB) as they all came away with defeats.
Bourges went into the final period leading (64-55) but were trailing within two minutes of the final period after Gunta Basko (left) fired a shot from down-town for Halcon to take the lead (66-64).
They managed to reduce their deficit to a single point at the end of the first period (20-21).
However they ran out of energy in the last three minutes allowing their guests to finish 14-2 and win the match (81-63).
Simona Ballardini was the match winner for the Italians with 27 points.
With six games to go in the EuroLeague Women qualification round, Bourges Basket and UHB are still on track for qualification for the next round.
However with no victories so far for Villeneuve d'Ascq and Montpellier they need to start winning soon if they hope to continue in this competition after Christmas.
You can read the group summaries by following the links.
EuroLeague Women qualifying Group A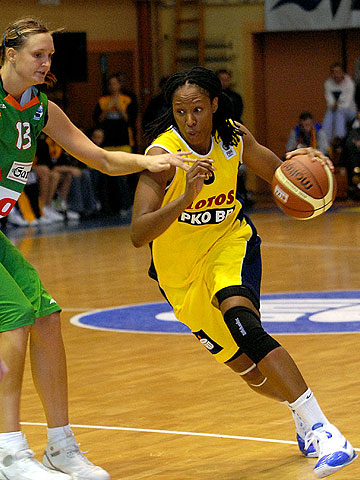 Wisla Can-Pack comfortably notched up victory number three, at home (75-45) against Besiktas Cola Turka.

Besiktas Cola Turka were without Shay Doron and had to rely on Laura Harper who managed to score 26 points. This was not enough against the well organised Polish team that had four players in double digits.

Once again Chamique Holdsclaw (right)led the scoring for her team with 17 points.

Nadezhda apprenticeship in EuroLeague basketball is not going well after they were defeated for the fourth time in four outings.

In the first two games of the season they lost out in the final quarter, a bad habit that once again cost them a home victory against MiZo Pécs this time.

Mizo Pécs went into the lead with 22 seconds left in the third period (41-40) and never looked back after scoring the first 4 points of the final period. They went on to dominate the final period 17-6 to win (58-46).

Bourges Basket perfect season with 11 wins in all competitions has come to an end as they were beaten by Spanish club side Halcon Avenida (77-70).

Gunta Basko led the scoring with 18 points for Halcon and was joined by three other player on 14 points: Anke De Mondt, Le'Coe Willingham and Donnette Snow.

Céline Dumerc scored 25 points for Bourges, which included 4-of-6 from beyond the arc. Endéné Miyem Miyem also finished in double digits with 15 points.

Bourges, Halcon and Wisla Can Pack all have identical records at the moment. They are at the top of the group with three wins each and one defeat.
---
EuroLeague Women qualifying Group B
TTT Riga won at last as they beat Gambrinus Sika Brno with the last shot of the game.

Zuzana Zirkova tied the game with a three-pointer (67-67) with just over 20 seconds to play.

TTT then ran the clock down before getting the ball to Essence Carson who then scored.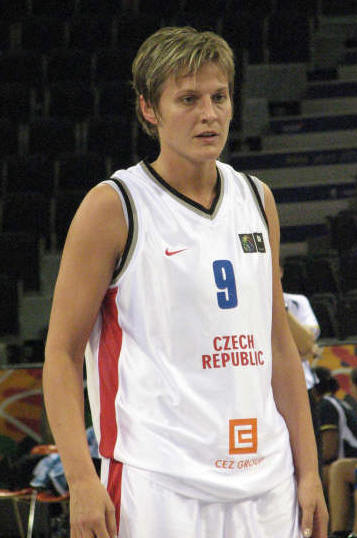 However Gambrinus Sika still had enough time for one more effort. In the picture left: Hana Machova (Hana Horakova) tried with the very last attempt to force overtime with a difficult lay-up without success.
With this defeat Gambrinus Sika are now 2-2 for the season.
For TTT Tatya Troina was the hot hand with 24 points of which 12 points came from beyond the arc as she hit 4-of-5.
CSKA Moscow officially parted company with Maria Steponova this week.
Playing at home they required a fourth quarter burst from Ann Wauters and Ilona Korstin to turn things around playing against MKB Euroleasing.
The two players were mainly responsible for CSKA making up their deficit to eventually take the lead (72-71) as the game went into money-time.
Becky Hammon then went 6-for-6 from the free-throw line as CSKA held on to win (81-77).
Villeneuve D'Ascq playing at home fell to Italian club side Umana Reyer (63-81).
With this victory Umana are just one of two clubs still unbeaten in the league.
---
---
EuroLeague Women qualifying Group C
UMMC Ekaterinburg continue to demolish their opponents as they won again on the road against ZVVZ USK Prague (94-64).

The game remained close during the first period. With 11 minutes played UMMC led (21-20).

By the 15th minute after a 15-0 run by UMMC (35-20) the game as a contest was already over. UMMC went into the locker room leading (48-30).

The first five minutes after the break was all UMMC (66-38). Afterwards they paced themselves to victory.

Asjha Jones led the scoring with 20 points. Furthermore all 12 players on the team sheet scored. For the hosts Lindsay Whalen was the best player with 16 points.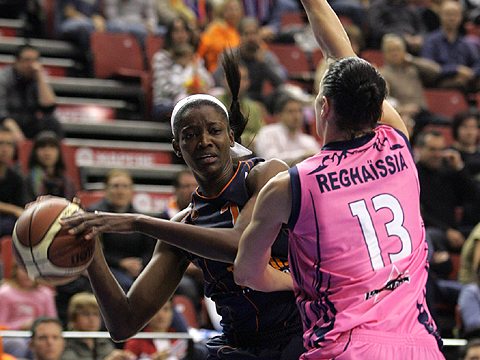 Ros Casares showed no mercy to Union Hainaut and had the game won by the interval leading (50-25).
They went on to win (99-51) with Delisha Milton-Jones (right) top scoring with 25 points. Amaya Valdemoro also finished with 21 points.
LOTOS PKO BP beat Jolly JBS Sibenik (79-76) with Serbia international Ivana Matovic scoring 27 points.
---
EuroLeague Women qualifying Group D
Spartak Moscow Region are not firing on all cylinders at the moment.
But once they got going, late in the third period, with Lauren Jackson and Diana Taurasi hitting the shots to take them into the lead (64-61), the pendulum swung away from the hosts Maxima Broker Kosice.
A 9-0 burst in the final period by Spartak Moscow Region was enough to break the resistance of the home side (75-65).
They then went on to win (89-75) with Taurasi leading the way with 25 points.
Sylvia Fowles was also in fine form with 19 points and 11 rebounds, while Jackson finished on 14 points.
Sidney Spence (above in picture) scored 22 points for the hosts who lost for the first time this season.
TEO Vilnius set up their victory with a first-half demolition of their opponents (46-16).
They relaxed during the second half of the match but had enough in reserve to beat Italian club side Beretta Famila (69-43).
Once again Crystal Langhorne was the pick of the players from TEO with 20 points and 7 rebounds.
Spartak Moscow Region, TEO Vilnius and Maxima Broker Kosice are all on identical records with three wins and one loss each.
The Euroleague Women match report between Fenerbahce (90-83) against Montpellier can be read by following the link.
---
All the EuroLeague Women 2008-2009 scores from the fourth-round matches:
Wisla Can-Pack 75-45 Besiktas Cola Turka
Nadezhda 46-58 MiZo Pécs 2010
Halcon Avenida 77-70Bourges Basket

TTT Riga 69-67 Gambrinus
CSKA Moscow 81-77 MKB EuroleasingUmana Reyer

ZVVZ USK Prague 64-94 UMMC Ekaterinburg
Ros Casares 99-51 Union Hainaut Basket
LOTOS PKO BP 79-76 Jolly JBS Sibenik

Broker Kosice 75-89 Spartak Moscow Region
TEO Vilnius 69-43 Beretta Famila
Fenerbahce 90-83 Lattes Montpellier

---
EuroLeague Women basketball news from the third round of games
EuroLeague Women basketball news from the second round of games
2008-2009 FIBA Europe basketball news preview
Return from EuroLeague Women round one summary to Women playing basketball blog
EuroLeague Women picture credits:
Womensbasketball-in-france.com
FIBA Europe

Date created: 06 November 2008

---