EuroCup Women semi-final
pairing confirmed
Chevakata
are the number one ranked team in the EuroCup Women this season and then demonstrated against Nantes-Rezé why this is so.
Trailing by 13 points to the French club after the first game, they went into overdrive from the tip-off and made up 10 points during the first quarter (29-19).
They continued to bombard the French defense and within two minutes of the second quarter (33-19) regained the aggregate lead.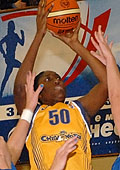 Nantes-Rezé, handicapped with the absence of Sonja Kireta, were finding it hard to stop Jessica Davenport (in picture) in the paint and went into the locker room trailing (39-59).
Mélanie Plust found her range from beyond the arc three times during a hectic third quarter in which Nantes-Rezé regained the aggregate lead.
However a three-pointer buzzer beater by Loree Moore for Chevakata reduced the aggregate deficit to 1 point.
Davenport went to work for the hosts inside the paint. With six minutes left to play Mame-Marie Sy-Diop fouled out for Nantes.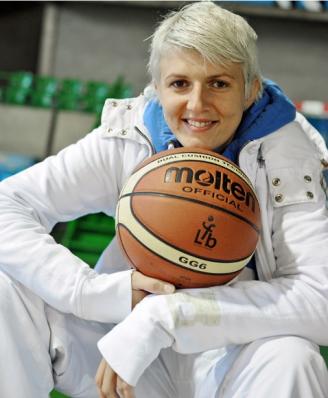 With her departure, it was all over for Nantes despite the efforts of Emilija Podrug (left) with 21 points because they did not have the height inside to stop the Russians.
Davenport finished the game with 29 points and 10 rebounds while former Russian youth international Elena Danilochkina added 18 points in the (92-72) victory.
Chevakata will face Arras in the semi-final.
Laurent Buffard said after the game: "We lost this game in the first half, making too many mistakes. As our center Sonja Kireta was not here, we had only two players on this position. Chevakata is the best team we played against in this competition. It was a tough European match on a very good level. It was physically hard for us to play. Besides, when we could have reduced the deficit, Mame Sy-Diop committed her fifth foul and Emilija Podrug was managing her ankle. Chevakata was better today."
Mann Filter Zaragoza played their hearts out but the defending champions
Sony Athinaikos
ended their EuroCup Women campaign with a (74-62) second-leg victory in Greece.
The two teams were tied (53-53) after the first leg in Spain.
Mann Filter led (21-20) at the end of the first quarter. Yet they failed to score for almost seven minutes in the second quarter.
Sony Athinaikos took full advantage scoring 17 unanswered points (37-20) to take command of the game. They maintained their advantage going into the final quarter (56-40).
Mann Filter did not give up but were unable to bring the score down significantly despite the efforts of Ines Kresovic.
Quarter-final results
Chevakata 92-72 Nantes-Rezé (Chevakata wins 162-155)

Sony Athinaikos 74-63 Mann Filter (Sony Athinaikos wins 127-115)

Gran Canaria 72-76 Elitzur Ramla (Elitzur Ramla wins 154-126)

Arras 87-65 Dynamo-GUVD (Arras wins 163-132)

Semi-final pairings
Chevakata (1) vs. Arras (12)
Athinaikos (2) vs. Elitzur Ramla (14)

---
Return to the EuroCup Women index
Return to the top of page
---
Picture credits:

Date created: 11 February 2011
---