Sony Athinaikos and Nadezhda Orenburg are 2010 Eurocup Women finalists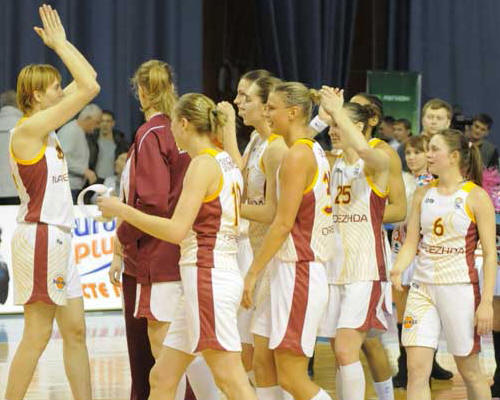 Nadezhda dominated the EuroCup Women second leg match against Saarlouis Royals (81-51) to book their ticket for the final.
Nadezhda never trailed in the match. They were in control of their destiny after the 11 first-quarter points by Sheana Mosch (25-13).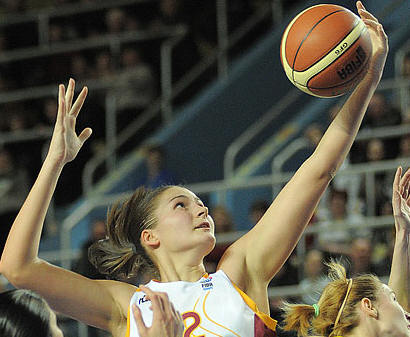 Saarlouis who were without Petra Manakova gave the hosts a little scare early in the second quarter by scoring the first 8 points.
However this was as close as Saarlouis were to get in troubling their hosts.
Mosch led the scoring with 19 points while Anastasiya Veremeenko (right) contributed 14 points, 8 rebounds, 3 assists and 2 blocks.
Saarlouis

Nadezhda

Romy Bär 8
Tatiana Dmitrieva DNP
Joana Meyer 2
Tatiana Burik 5
Stina Barnert 10
Katsiaryna Snytsina 10
Kelci Fushikoshi 2
Olga Ovcharenko 7
Janina Wellers 0
Anastasiya Veremeenko 14
Katharina Müller 0
Sheana Mosch 19
Yvonne van Daalen 9
Tatyana Troina 9
Natalya Myasoedova DNP
Monique Currie 7
Tyresa Smith 9
Elena Baranova 10
Kelly Brugman 0
Candyce Bingham 10
After the success of the men's handball team in Athinaikos, it is now the turn of the women's basketball team to become centre stage with the qualification for the final.
Sony Athinaikos beat Dynamo Kursk (60-55) in the second leg for an aggregate victory (124-113).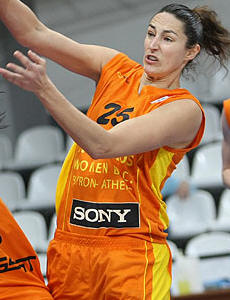 Athinaikos, playing at home, took hold of the tie by opening a 10-point advantage by the end of the first quarter (19-9) with Dimitra Kalentzou leading the scoring with 6 points.
The second quarter was a ding dong affair with Athinaikos remaining in front throughout to go into the interval (36-26).
Ruth Riley (right) turned back the clock and came up with some of her trademark moves to maintain the advantage of Atinaikos (43-33) midway through the third quarter.
Dynamo Kursk continued to battle away with Michelle Snow and Jillian Robbins doing most of the offensive work. But they left themselves too much to do trailing by 13 points (39-51) when they went into the final quarter.
The Greek fans will be back in Athinaikos for the second leg of the final on 8 April 2010.
Dynamo Kursk

Sony Athinaikos

Ksenia Lapteva 0
Dimitra Kalentzou 9
Michelle "Donnette" Snow 11
Iouliti Lymoura 1
Olga Chatzinikolaou 8
Ausra Bimbaite 8
Vakina Volonaki 0
Sandra Linkeviciene 7
Nikole Soulis 2
Jillian Robbins 10
Gintare Petronyte 4
Raisa Lenshina DNP
Polymnia Saregkou 0
Natalia Gvozdeva DNP
Candice Wiggins 6
Anastasiya Bocharova 6
Zoi Kechagia 0
Svetlana Maksimenko 5
Afroditi Kosma 3
Varvara Psareva 8
Ruth Riley 17
Irena Vizbariene 10
---
Visiting teams win first leg of semi-finals
Nadezhda Orenburg ended home dominance in EuroCup Women quarter-finals first leg
Go to Women Playing Basketball In France Home Page
GO Back to the top of the page
---
EuroCup Women picture credits:

FIBA Europe


Date created: 18 March 2010
---