Eurocup Women advantage for Sony Athinaikos
The first leg of the 2010 FIBA Europe EuroCup Women final was won by Sony Athinaikos (65-57) against Nadezhda Orenburg.
Greek international Dimitra Kalentzou, playing for Sony Athinaikos, scored 16 of her 18 points during the first half of the game. She also finished with 7 rebounds and 3 steals.
The match itself was lively with plenty of high points from both teams.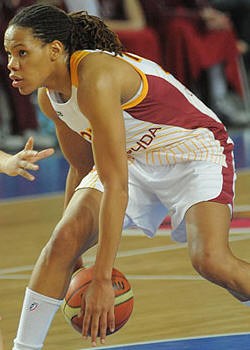 Monique Currie (left) from Nadezhda with 13 points and Kalentzou with 16 points were the leading scorers at the interval with Athinaikos ahead (35-28).
After the break the hosts reduced their deficit slightly and kept on the heals of the guests (43-46) going into the final quarter.
Currie and Sheana Mosch kept on scoring for the hosts. But unforced turnovers and unnecessary fouls undid their good work.
Ruth Riley and Candice Parker finished the job offensively for Athinaikos to take an 8-point lead into the second game.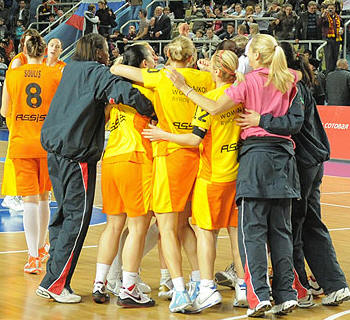 Currie finished the game with 21 points, while Mosch contributed 12 points and Anastasiya Veremeenko scored 8 points and collected 11 rebounds in the defeat.
Riley finished the game with 11 points and 7 rebounds while Wiggins scored 9 points. Irena Vizbariene compiled a double-double of 10 points and 11 rebounds
Nadezhda Orenburg

Sony Athinaikos

Alexandra Kiryushina DNP
Dimitra Kalentzou 18
Tatiana Dmitrieva DNP
Iouliti Lymoura 0
Tatiana Burik DNP
Olga Chatzinikolaou 8
Katsiaryna Snytsina 5
Vakina Volonaki 0
Olga Ovcharenko 5
Nikole Soulis 0
Anastasiya Veremeenko 8 (11 rebounds)
Gintare Petronyte 3
Sheana Mosch 12
Polymnia Saregkou 2
Natalya Myasoedova DNP
Candice Wiggins 9
Tatyana Troina 0
Zoi Kechagia DNP
Monique Currie 21
Afroditi Kosma 0
Elena Baranova 6
Ruth Riley 11
Irena Vizbariene 10 (14 rebounds)
---
Sony Athinaikos and Nadezhda Orenburg qualify for final
Go to Women Playing Basketball In France Home Page
GO Back to the top of the page
---
Picture credits:

Nadezhda - FIBA Europe
womensbasketball-in-france.com

Date created: 01 April 2010
---