EuroCup women delight for the majority of home fans
There have been many roster changes for teams participating in the EuroCup Women since Christmas so that the rankings from the first phase have become meaningless.
However the rules of the competition state that the lower ranked team plays the first leg at home. Five teams from eight playing at home came away with victories with four of them with more than 19 points advantage.
Saarlouis Royals from Germany started the eight-final by beating Serbian club side KK Hemofarm Stada (86-65). The Royals had to wait until the final quarter to secure victory. They outscored their guests 32-5 during the last 10 minutes to give themselves a 21-point advantage going into the second leg.
Czech Republic international Petra Manakova led the Royals' attack with 26 points and 12 rebounds. German international Romy Bär contributed 19 points while Candyce Bingham and former Dutch youth international Kelly Brugman added 14 and 10 points apiece.
A bad night for French clubs in EuroCup Women action
Mondeville were without Temeka Johnson due to unsolved administrative licence issues that was not been resolved in time for the trip to Turkey.
Botus Spor were solid during the first 20 minutes from the free-throw line with a perfect 12-of-12.
Courtney Paris (left) scored 7 times from the charity stripes in her total of 15 points at the interval. She also pulled down 12 rebounds as Botus Spor dominated Mondeville (42-28).
Botus continued to apply full court pressure during the third quarter and stretched their advantage going into the final quarter (64-41).
Mondeville staged a comeback and with three minutes left to play they reduced the deficit to 8 points (62-70).
Yet Botus survived the storm. Thanks to 2 late points by Gamze Takmaz (18 points) they finished with a 9-point lead (76-67) for the second leg. Paris finished with 22 points.
K. V. Imperial AEL keep adding to their roster. This week they signed Cindy Lima from TTT Riga.
Lattes Montpellier were without Constance Jinks for the game against K. V. Imperial AEL. Despite having the better start to the game (4-0) they finished the first quarter trailing (19-14).
Chamique Holdsaw (9 points and 6 assists) controlled the pace for the Cypriot side while Daliborka Vilipic (18 points) and Sheril Baker (13 points) did most of the scoring in their victory (72-52).
Pauline Krawczyk led the attack for Montpellier with 13 points.
The rest of the EuroCup action
Linda Fröhlich (left) went 7-of-7 from behind the arc and scored 30 points as Municipal Targoviste beat Gran Canaria (80-55).
Shay Doron was the other big player in the match with 26 points and 4 assists while Anne Marie Parau fired in 13 points and dished out 7 assists.
Ruth Riley has not arrived yet but Sony Athinaikos held on to win (57-56) on the road against Dynamo Kyiv.
Sheana Mosch (right) fired in 25 points and dished out 6 assists for Nadezhda in their victory against (80-70) against Spanish side Mann Filter Zaragoza.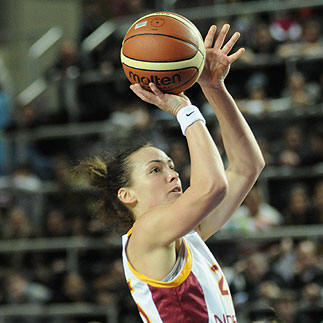 Oxana Zakalyuzhnaya was second to Mosch with 22 points while Allison Feaster-Strong led the Spanish team attack with 23 points.
Svetlana Maksimenko (23 points) and Varvara Psareva (20 points) scored 50% of Dyamo Kursk's points in the victory against Seat Györ (80-56).
Krissy Bade scored 21 points for Ibiza Sport Island but still ended up on the losing side Island against Dynamo Moscow (63-70).
Marina Kuzina's 23 points helped the team from Moscow that are one of the favourites for the competition to remain unbeaten in the competition and on track for a quarter-final appearance.

All the EuroCup Women eighth-final first legs results:
K. V. Imperial AEL 72-52 Lattes Montpellier

Ibiza Sport Island 63-70 Dynamo Moscow

Municipal Targoviste 80-55 Gran Canaria

Saarlouis Royals 86-65 KK Hemofarm Stada

Botas Spor 76-67 USO Mondeville
Dynamo Kursk 85-56 Seat Györ

Dynamo Kyiv 56-57 Sony Athinaikos

Nadezhda Orenburg 80-70 Mann Filter Zaragoza

---
EuroCup Women sixteenth-final second leg news
Go to Women Playing Basketball In France Home Page
GO Back to the top of the page
---
EuroCup Women picture credits:

Saarlouis Royals
FIBA Europe

Date created: 28 January 2010
---