EuroCup Women succes for home teams
---
---
16 EuroCup Women victories for the home teams did not prevent two top seeded teams to be eliminated from the competition.
The number 12 seed CCC Polkowice and 16 seed Dunav Econt Ruse were the teams to fall to lower ranked teams.
The biggest comeback in the second leg was performed by Gran Canaria 2014 La Caja de Canarias that overturned a 22-point deficit against Jolly JBS Sibenik.
USO Mondeville and Lattes Montpellier perfectly paced themselves to victory to the delight of their supporters and coaches.
The Eighth-Finals (second round) are played over two legs, with the first games scheduled for 28 January and the return leg on 4 February 2010.
EuroCup news from the French clubs and players
Hervé Coudray, the coach from Mondeville, was more than satisfied with his team's performance in overcoming Baschet ICM (99-53).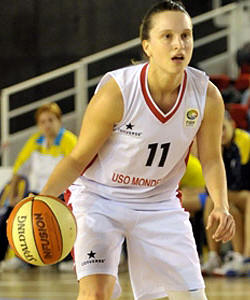 He explained that he wanted to turn his bench so as to give his bench and junior players an opportunity to gain some playing time and confidence.
Clarisse Costaz (left) who has had an injury interrupted season so far came up with her best game for 2009-2010 to lead the scoring with 22 points.
This included 5-of-8 from beyond the arc.
Pauline Thizy and Fanny Cavallo, two players from the 1990 generation, had an opportunity to play extended minutes.
Lattes Montpellier had the pleasure of welcoming Emin Mogulkoc and Haydn Jones, two of the officials from the games between Tarbes and Spartak Moscow Region the previous evening.
Spartak Noginsk scored the first 4 points of the game. But Montpellier responded with a 9-0 run of their own to take command of the game.
They controlled the pace of the game the rest of the match to win (77-58).
Valéry Demory, the head coach from Montpellier, was satisfied with the team's performance. He was able to change players around without affecting the systems. All ten players got on the scoresheet.
Krissy Bade was on fine form for Ibiza Sport Island. She scored 14 points and picked up 5 assists as her team beat BC Dnipro (75-55) to book their place in the next round.
Allison Feaster-Strong fired in 19 points in 22 minutes to lead Mann Filter to victory over LMK SBC SF. Gheorghe (92-55).
There was disappointment for Erik Lehmann as his team Sdent Sierre Basket lost on the road to Dynamo Moscow (58-77).
---
---
The rest of the EuroCup Women news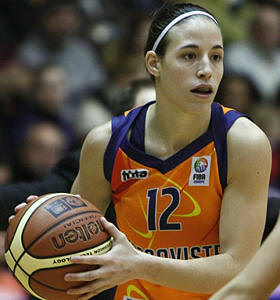 Courtney Paris
fired in 23 points for Botas Spor in their defeat (64-69) against CCC Polkowice. However Botas Spor won the series (138-119) with a total of 46 points coming from Paris.
Shay Doron (right) and Tina Thompson scored 23 points apiece as Municipal Targoviste beat MBK Ruzomberok (84-51).
Sheana Mosch fired in 25 points for Nadezhda Orenburg in their (80-65) victory against HATIS Yerevan.
All the EuroCup Women sixteenth-finals results:
Lattes Montpellier 77-58 Spartak Noginsk (Lattes Montpellier wins 144-119)
Dynamo Moscow 77-58 Sdent Sierre Basket (Dynamo Moscow wins 139-119)
Gran Canaria 71-45 Jolly JBS Sibenik (Gran Canaria wins 111-107)
KK Hemofarm Stada 86-64 Zeljeznicar NLB (KK Hemofarm Stada wins 155-133)
USO Mondeville 99-53 Baschet ICIM (USO Mondeville wins 183-121)
Seat Györ 83-68 Lemminkainen (Seat Györ wins 157-128)
Sony Athinaikos 100-62 ZKK Medvescak (Sony Athinaikos wins 180-116)
Mann Filter 92-55 LMK SBC SF. Gheorghe (Mann Filter wins 177-112)
Nadezhda 80-65 HATIS Yerevan (Nadezhda wins 160-134)
Dynamo Kyiv 70-63 Energa Torun (Dynamo Kyiv wins 131-127)
Dynamo Kursk 93-72 Besiktas JK (Dynamo Kursk wins 188-141)
CCC Polkowice 69-64 Botas Spor (Botas Spor wins 138-119)
Saarlouis Royals 69-63 Dexia W Namur (Saarlouis Royals wins 164-134)
Municipal Targoviste 84-51 Ruzomberok (Municipal Targoviste wins 174-119)
Ibiza Sport Island 75-55 BC Dnipro (Ibiza Sport Island wins 132-114)
Dunav Econt Ruse 77-75 K. V. Imperial AEL(K. V. Imperial AEL wins 168-142)

The EuroCup Women 2010 Eighth-Final match-ups:
K. V. Imperial AEL vs. Lattes Montpellier
Ibiza Sport Island vs. Dynamo Moscow
Municipal Targoviste vs. Gran Canaria
Saarlouis Royals vs. KK Hemofarm Stada
Botas Spor vs. USO Mondeville
Dynamo Kursk vs. Seat Györ
Dynamo Kyiv vs. Sony Athinaikos
Nadezhda Orenburg vs. Mann Filter Zaragoza

---
knock-out phase started with some surprises
Return to the EuroCup Women home page
Return from FIBA Europe EuroCup Women round-up to women playing basketball blog
Return to women playing basketball in France home page
picture credits:

Fiba Europe
Nadezhda

Date created: 15 January 2010

---
---