Challes-les-Eaux EuroCup Women season is going well
---
---
Only 7 games played on the first night of round three action in the EuroCup Women competition.
While French clubs side had a dismal evening in the EuroLeague, Challes-les-Eaux restored some pride for the LFB with a road victory against Romanian club side CSS-LMK SF Gheorghe (65-59).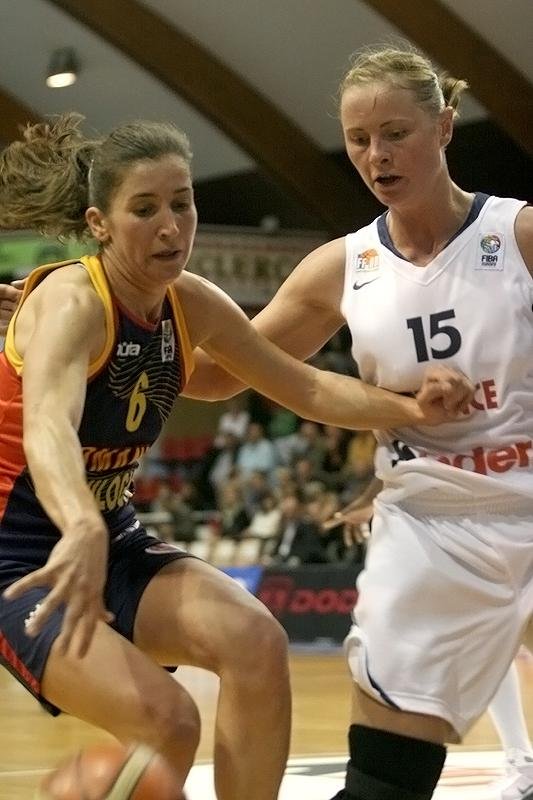 Ildiko Vass (left), a Romanian international, led the way for CSS-LMK SF with 16 points and 6 steals. She was joined on 16 points by Erzsebet Ambrus who also had 7 rebounds.
Corinne Benintendi decided early to stick with four of her players: Martina Gyurcsi, Carly Wilson, Silvia Bedu and Ivona Bogoje for most of the match.
The role of point-guard was split between Kirby Copeland and Emilie Duvivier.
Challes started the game well and led (9-8) after Laina Badiane hit a trey. The last 2 ½ minutes belonged to the hosts as they scored the last 9 points to lead (17-9).
Vass completed the 10-0 riot early in the second period. Then Challes-les-Eaux began the chase and regained the advantage with Wilson scoring 8 points in a row which included back-to-back three-pointer (24-22).
Challes were unable to maintain the momentum allowing the hosts to take back the lead before the interval (30-26).
Yet they were soon back on level terms (30-30) and then took the lead for good as Copeland fired in a three-pointer.They continued to attack and were soon leading by 10 points (44-34). Going into the final period Challes had an 11-point lead (50-39).
The French club had a maximum lead of 15 points (55-40) with six minutes left to play. They still led by 11 points as the game entered the last minute and despite a flourish of points by the hosts held on to win (65-59).
Wilson finished with 17 points and was joined in double digits by Bedu on 12 and Copeland with 11 points.
Challes are 3-0 so far and should have done enough to have already qualified for the knock-out stage.
---
Elsewhere on Wednesday night in EuroCup Women action
Dynamo Moscow made it look easy as they beat Polish club side KSSSE AZS-PWSZ (93-64).
Belinda Snell, this season playing for Dynamo after her year with Bourges Basket, hit 5-of-7 from beyond the arc for her tally of 23 points in this match.
ZKK Gospic survived a last quarter fight-back from their Cypriot hosts K.V. Imperial AEL to win (67-65).
Université BC Neuchâtel recorded their second victory with (74-68) against Hungarian club side Seat Foton Györ. Belgium youth international Noémie Mayombo who plays for the Swiss team scored 9 points in her 14 minutes of play.
Tiffany Monique scored 35 points for Kara Trutnov as they overcame Baschet (90-88).
---
---
EuroCup Women Success for Mondeville and Tarbes
On the second evening of action in the EuroCup Women, the two clubs from the LFB earned important victories on the road.
Mondeville travelled to ZKK Buducnost in Montenegro and walked away with their first EuroCup win of the season.
Lenae Williams scored 13 of her 20 points during the first 10 minutes as Mondeville went ahead (28-23).
Mondeville, hampered by foul problems, were to lose their advantage very quickly. Hervé Coudray (left) had no choice but to bring 16-year old Esther Niamke-Moisan into the game.
Youth exuberance pays at time as Mondeville went on a 15-0 run while she was on the field (45-30).
With Naura El Gargati also on foul problems Angie Tchoumba was called into action to help defend the advantage until the interval.
The home side only scored 5 points and trailed (45-35) at the interval.
Mondeville never allowed the hosts to trouble them for the rest of the match despite having so many players in foul problems and went to win (77-44).
---
Tarbes are the only club in the LFB with a perfect record this season after beating Pallacanestro Ribera (65-64).
Tarbes have the habit of making things difficult for themselves and then getting themselves out of trouble.
They led (17-10) by the end of the first period and (36-24) at midway point.
Their Italian hosts changed their tactics after the break and went on the offensive to score the first 5 points.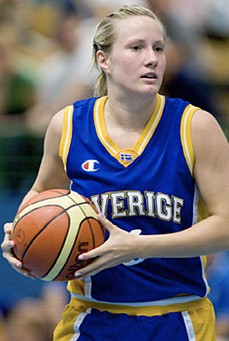 Tarbes were then on the back foot and had problems to contain their hosts but still went into the final period leading (49-43).
They continued to struggle and with four minutes to play the game was tied (55-55).
Yet Tarbes' remaining 10 points came all from the free-throw line. Frida Eldebrink (right) was to score what turned out to be the winning free-throws with 15 seconds to play (65-61).
The Italians did manage to score a three-pointer but then ran out of time.
Eldebrink led the Tarbes scoring with 12 points while for Ribera two former LFB players Kaayla Chomes (Mourenx) and Molly Creamer (Calais) top scored with 21 and 14 points respectively.
---
The rest of the EuroCup Women's basketball news
Ibiza-PDV
kept their unbeaten record intact with a hard fought road victory against Arvi Marijampole (62-57). A (13-4) start to the final period allowed them to take hold of the game.
Former French youth international Faeza Bouderra, currently playing in Spain, led her side in scoring with 11 points.
Cathy Joens who is still remembered in Aix-en-Provence, led Rivasecopolis to victory on the road against Bulgarian club side Dunav Econt Rousse (75-70). She scored 26 points, which included 5-from-8 from beyond the arc.
Rivasecopolis remain second in Group C behind Elitzur Ramla who beat Red Star Belgrade (65-62). Ramla had to thank Nkolika Anosike who finished with a double-double 23 points and 16 rebounds.
Sandra Dijon and SKCesis just held off Ravenna Esperides (58-56).
The French players Elodie Godin and Audrey Sauret-Gillespie had success with Cras Basket as they overcame Gran Canaria (69-64).
After three rounds of games, ten teams still remain unbeaten and are just one win away from certain qualification for the next round of the competition.
---
FIBA Europe EuroCup Women 2008-2009 third round results
KSSSE AZS-PWSZ Gorzow 64-93 Dynamo Moscow
Municipal Targoviste 73-53 MBK
CSS-LMK SF. Gheorghe 59-65 Challes-Les-Eaux
Bnot Hasharon 63-102 Dynamo Kursk
Dunav Econt Rousse 70-75 Rivasecopolis
ZKK Crvena Zvezda 62-65 Elitzur Ramla
Université BC Neuchâtel 74-68 Seat Foton Györ
Solna Vikings 71-89Szeviép
Ragusa 62-66 Panionios G.S.S
Athinaikos BC 100-85 CB Feve San Jose
K.V. Imperial AEL 65-67 Gospic
Gran Canaria 64-69 Cras Basket Taranto
ZKK Buducnost 64-77 USO Mondeville
AKO Aris Holargou 61-65 Galatasaray
Baschet ICIM 88-90 Kara Trutnov
Arvi Marijampole 57-62 Ibiza - PDV
KK Zeljeznicar 71-88 Lavezzini Basket
SK Cesis 58-56 Ravenna Esperides
Olivais Coimbra 74-72 Extrugasa
Pallacanestro Ribera 64-65 Tarbes
Lemminkainen 56-72 ZKK Hemofarm Vrsac
A.D.V. 57-102 Chevakata
Spartak M.R. Noginsk 76-93 Dexia W Namur
BC Star - TLÜ 60-66 Botas Spor
---
Return from EuroCup Women round three summary to Women playing basketball blog
Return to EuroCup Women Index page
picture credits: womensbasketball-in-france.com
Ligue Féminine de BasketBall
Ann-Dee Lemour
FIBA Europe
Date created: 06 November 2008

---