EuroBasket Women 2011
French training roster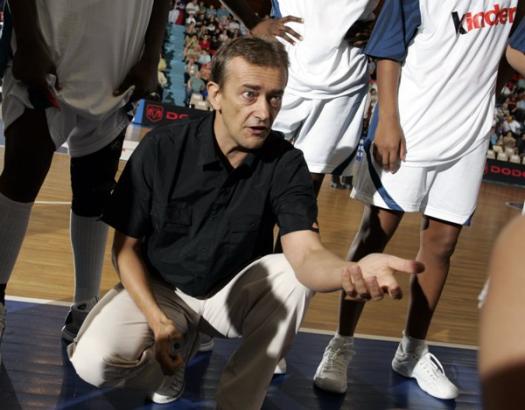 Pierre Vincent has revealed his 2011 EuroBasket Women training roster of 29 players.
The list includes ten active members from the 2009 EuroBasket Women winning squad.
Vincent explained that some players' season has already ended while others will be playing until 15 May in the final of the Coupe de France (French Cup) so it will not be possible to have all the players available until 19 May.
As he will only have four weeks of preparation with the whole roster he has decided to start the training camp in Bourges on 2 May until 13 May with the players whose season has ended.
The purpose of this first training camp is to keep players fit and also gives him a chance to evaluate new players.
The final preparations for EuroBasket Women 2011 will start with a training camp in Divonne-les-Bains starting on Thursday, 19 May for seven days.
It is very likely that the training roster will be reduced before the first set of friendly matches at the Ain 4-nation tournament with Belgium, Greece and Israel.
France have a programme that includes 10 preparation matches and four training camps.
The 29 players - of which the ones in bold are called up for the first time - are as follows:
Marielle Amant (Arras) - 13 selections
Mélanie Arnaud (COB Calais)
Camille Aubert (Toulouse)
Clémence Beikes (Union Hainaut Basket - 77 selections
Virginie Brémont (Montpellier)
Ana Cata-Chitiga (Tarbes)
Jennifer Digbeu (Bourges Basket) - 40 selections
Céline Dumerc (UMMC Ekaterinburg) - 143 selections
Naura El-Gargati (Tarbes)
Elodie Godin (Cras Basket Taranto ) - 96 selections
Emilie Gomis (Villeneuve d'Acq) - 124 selections
Johanne Gomis (Arras) - 15 selections
Sandrine Gruda (UMMC Ekaterinburg) - 55 selections
Sylvie Gruszczynski (COB Calais)
Pauline Lo (Tarbes) - 20 selections

Laëtitia Kamba (Union Hainaut Basket)
Pauline Krawczyk (Lotos Gdynia) - 19 selections
Marion Laborde (Basket Landes) - 19 selections
Anaël Lardy (Bourges Basket) - 35 selections
Florence Lepron (Tarbes) - 59 selections
Sarah Michel (Arras)
Endéné Miyem (Bourges Basket) - 53 selections
Emméline Ndongue (Bourges Basket) - 146 selections
Sarra Ouerghi (Charleville-Mézières)
Paoline Salagnac (Bourges Basket) - 2 selections
Doriane Tahane (Nantes-Rezé) - 2 selections
Ingrid Tanqueray (Villeneuve d'Ascq)
Pauline Thizy (USO Mondeville)
Isabelle Yacoubou-Dehoui (Famila Basket Schio) - 53 selections

---
Return from EuroBasket roster information to French Senior International Basketball news page
Go to Women Playing Basketball In France Home Page
Return to the top of page
---
picture credits:
IS/FFBB/Bellenger


Date created: 21 April 2011
---