EuroBasket Women training roster
Edwige Lawson-Wade returns
With the FIBA Europe deadline approaching for registering players for EuroBasket Women 2011, Pierre Vincent released his final training roster.
FIBA Europe allows each country to register up to 24 players, once the deadline passes no additional players can be added to the list.
Three members from the French 2010 World Championship roster had to withdraw due to injuries: Marielle Amant, Johanne Gomis and Elodie Godin.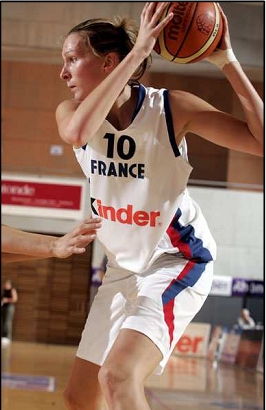 Doriane Tahane who was injured during last year's preparation and has not played since also withdrew.
Julie Barennes who was called up last week, Sarah Michel and Sarra Ouerghi were all released.
For Pauline Thizy the adventure with "les Bleues" is over without attending a camp. Her season with USO Mondeville is not over yet but she has been replaced by Elodie Bertal (right).
Bertal who has played 19 times for France and just missed out on going to EuroBasket 2009 became the 31st player to be called up this season.
Two years ago, Vincent persuaded Cathy Melain to come out of international retirement to play at EuroBasket 2009.
This time around the surprise comes in the inclusion of Edwige Lawson-Wade (in picture) who last played for France in 2007. She missed Vincent's first summer in charge to play in the WNBA and has been absent since.
However her place at EuroBasket Women 2011 is not guaranteed. Vincent explained that Lawson had always been in contact with the Federation and recently expressed her interest in playing for France again.
So she will be in competition with the other point guards in the squad and will have to earn her place.
The original list of 29 players for EuroBasket Women 2011 was made up of 15 players from the 2010 training roster and a number of players to challenge them.
Due to the fact of FIBA Europe's deadline, injuries, the LFB play-offs and the Coupe de France, Vincent was left with no choice but to change his strategy and reduce his squad to 24 names.
From this year at EuroBasket Women all the teams will be allowed a fourteen-team roster. They will name the 12 players to play at the latest 60 minutes before tip-off.
EuroBasket Women 2011: French list sent to FIBA Europe
Mélanie Arnaud (COB Calais)
Camille Aubert (Toulouse)
Clémence Beikes (Union Hainaut Basket) - 77 selections
Elodie Bertal (Villeneuve d'Ascq) - 19 selections
Virginie Brémont (Montpellier)
Ana Cata-Chitiga (Tarbes)
Jennifer Digbeu (Bourges Basket) - 40 selections
Céline Dumerc (UMMC Ekaterinburg) - 143 selections
Naura El-Gargati (Tarbes)
Emilie Gomis (Villeneuve d'Acq) - 124 selections
Sandrine Gruda (UMMC Ekaterinburg) - 55 selections
Sylvie Gruszczynski (COB Calais)
Pauline Lo (Tarbes) - 20 selections
Laëtitia Kamba (Union Hainaut Basket)
Pauline Krawczyk (Lotos Gdynia) - 19 selections
Marion Laborde (Basket Landes) - 19 selections
Anaël Lardy (Bourges Basket) - 35 selections
Edwige Lawson-Wade (Ros Casares) - 153 selections
Florence Lepron (Tarbes) - 59 selections
Endéné Miyem (Bourges Basket) - 53 selections
Emméline Ndongue (Bourges Basket) - 146 selections
Paoline Salagnac (Bourges Basket) - 2 selections
Ingrid Tanqueray (Villeneuve d'Ascq)
Isabelle Yacoubou-Dehoui (Famila Basket Schio) - 53 selections

---
Return from EuroBasket roster information to French Senior International Basketball news page
Go to Women Playing Basketball In France Home Page
Return to the top of page
---
France EuroBasket picture credits:
Masbasket
IS/FF

Date created: 07 May 2011
---