EuroBasket Women training roster
sixteen players travel to Divonne-les-Bains
Pierre Vincent has reduced his EuroBasket Women 2011 training roster
by releasing nine players from his list
.
Sixteen players will start the second phase of the preparation starting on Thursday, 19 May 2011 in Divonne-les-Bains.
Vincent modified the FIBA Europe list for the EuroBasket participation of France after his declaration last week as Aurélie Bonnan has been invited to the training camp.
Her last appearance (seven in total) for "les Bleues" was in July 2005 against Russia.
Ana Cata-Chitiga is the only player in the roster without a senior appearance to her name while Pauline Lo who played at the FIBA World Championship for Women in 2010 is the big name in the list of released players together with Mélanie Arnaud, Camille Aubert, Elodie Bertal, Virginie Brémont, Naura El-Gargati, Sylvie Gruszczynski, Laëtitia Kamba and Ingrid Tanqueray.
The training roster is as follows: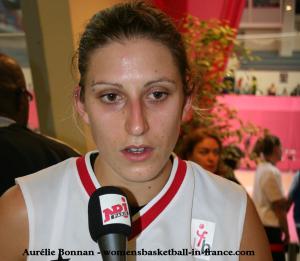 Clémence Beikes (Union Hainaut Basket) - 77 selections
Aurélie Bonnan (USO Mondeville) - 7 selections
Ana Cata-Chitiga (Tarbes)
Jennifer Digbeu (Bourges Basket) - 40 selections
Céline Dumerc (UMMC Ekaterinburg) - 143 selections
Emilie Gomis (Villeneuve d'Ascq) - 124 selections
Sandrine Gruda (UMMC Ekaterinburg) - 55 selections
Pauline Krawczyk (Lotos Gdynia) - 19 selections
Marion Laborde (Basket Landes) - 19 selections
Anaël Lardy (Bourges Basket) - 35 selections
Edwige Lawson-Wade (Ros Casares) - 153 selections
Florence Lepron (Tarbes) - 59 selections
Endéné Miyem (Bourges Basket) - 53 selections
Emméline Ndongue (Bourges Basket) - 146 selections
Paoline Salagnac (Bourges Basket) - 2 selections
Isabelle Yacoubou-Dehoui (Famila Basket Schio) - 53 selections

---
Return from EuroBasket Women roster information to French Senior International Basketball news page
Go to Women Playing Basketball In France Home Page
Return to the top of page
---
France EuroBasket picture credits:

Date created: 12 May 2011
---