France play in Group D during the EuroBasket Women 2009
---
---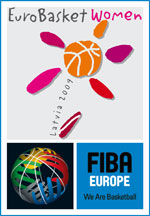 The fourteen nations already qualified for EuroBasket Women 2009 and the winners from the Additional Qualification Round (ADR) have been split into 4 groups of 4 teams for the preliminary rounds.
The finals will be played in Latvia between 7-20 June 2009 in three locations in Latvia.
The preliminary round of games will be held in Liepaja and Valmiera while the qualifying round and final games in Riga.

France have been drawn in Eurobasket Women Group D and will play Israel, Belarus and the winners from the AD>ditional qualification Round B (Belgium, Croatia and Italy).
Pierre Vincent has studied the draw and has not changed the long-term objectives for France. a qualification for the Olympic games in 2012. For the EuroBasket finals next year a place in the quarter-final is what he wants as a minimum.
He explained the French team was a new group of players. The current programme was for the future.
Although not an objective a top 5 finish at EuroBasket Women qualifies teams for the 2010 world championships in The Czech Republic.
The Groups are as follows:
EuroBasket Women 2009 Draw

| Group A | Group B | Group C | Group D |
| --- | --- | --- | --- |
| Qualifier A | Greece | Lithuania | Belarus |
| Czech Republic | Latvia | Russia | Qualifier B |
| Spain | Poland | Turkey | France |
| Slovak Republic | Hungary | Serbia | Israel |
---
Games to be played in January
In January six teams will battle it out for the two remaining places to participate in the EuroBasket 2009 edition.
In Group A of the ADR Bulgaria, Ukraine and Germany will compete against each other home and away for a place in the Eurobasket women Group A. The winners of ADR Group B will play in the same group as France.
Four nations will play in the ADditional Relegation round with the bottom two teams facing relegation to Division B: Bosnia, Finland, Great Britain and Romania are the teams concerned in this competition.
All the games will be played between the 4 and 19 January 2009.
---
Previous EuroBasket Women qualifiers news for 2009
EuroBasket Women 2009 qualifiers: The qualification jigsaw puzzle is complete
The qualification jigsaw puzzle
Thriller at the Prado see France qualifier
The Slovak Republic end France's winning streak
Return from EuroBasket women 2009 qualifiers preparation to women playing basketball blog
Logo Credit: FIBA Europe

Date: 18 October 2008
---