Basketball news:
Natalie Hurst's video interview
All the local basketball news media in Aix-en-Provence were reporting was the 31-point performance of Nathalie Hurst against Basket Landes.
In a video interview conducted by "Aix Sport Info", the sports information service in Aix-en-Provence asked Hurst mainly about her 27-point contribution of her team's total of 30 points in the first half of the match.
While Hursts speaks in English, her team-mate N'Dieye N'Diaye provides a French translation.
Hurst tried her best all through the interview to state that her role as a point guard was more than just scoring.
However she could not explain her performance and just said that she had been rolling. Her team-mates had given her the ball and luck had been on her side as the shots had kept dropping.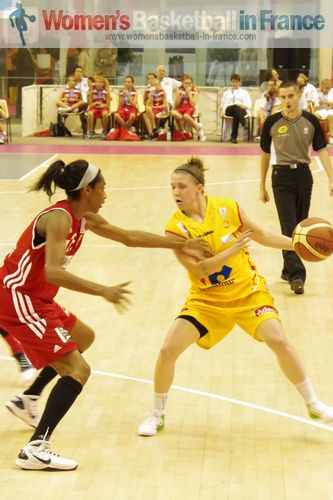 Yet she had had no idea how many points she had until she was told at the interval. She also commented that she had not had many open shots all season which could have been a factor.
She said she had felt good and basically it had been just one of those nights. When your first shot connects from a meter behind the three-point line then things can just happen.
She did not think that this was her best performance for the club because as a point guard it was not all about scoring. But this match was certainly amongst her better games. She believed she had other skills as point guard that were just as important. But only when you score people take notice.
She finished the interview laughing off the comparison to Allen Iverson by stating how ridicule it was to be referred to as the "answer" or "solution" because all that put unnecessary pressure on the next game.
Our colleagues from Ladyhoop have put together a short video to music showing all 31 points:
---
Go to Ligue Féminine de Basket 2011-2012 page
Leave Ligue Féminine de Basket - Season 2011-2012 page and return to home page
Return to the top of Basketball News round-up
Basketball news picture credits:


womensbasketball-in-france.com


Date created: 16 December 2011

---