LF2 basketball news:
Mia Fisher joins SO Armentières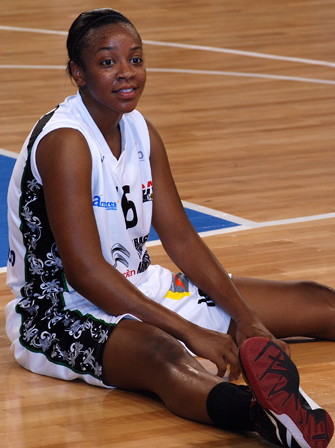 Mia Fisher
was in a lot of basketball news in France for her exploits in the LFB with SJ Reims, Arras and SO Armentières during the last three seasons.
After a poor start in the LFB during the 2009-2010 season Fisher was signed by the club.
SO Armentières had a roller coaster ride in the LFB which ended in the club finishing in the relegation zone.
This season the club is currently lying in 13th place in LF2 with just five victories in 14 games.
Stéphane Lalart who was the head coach at the start of the 2010-2011 season decided to step down and concentrate in his function of General Manager while Abdel Bellouni moved up from assistant to head coach in November.
Fisher is expected to play her first official game in the second division on Saturday, 8 January 2011.
---
Return to LF2 basketball news page
Return to women playing basketball in France Home page
GO Back to the top of the page
---
Picture credits:


SO Armentières


Date created: 2 January 2011

---