Basketball news
Marissa Coleman in Lyon for three weeks
Following the WNBA basketball news recently, Marissa Coleman's name came up because her club, the Washington Mystics traded (transferred) her to the Los Angeles Sparks to acquire Noelle Quinn.
Three days later, on 4 February, Coleman announced that she was off to France on twitter. However no mention was made for how long her deal was.
With the recent injury to Mame-Marie Sy-Diop and the prolonged absence of Marion Arfelis, the directors of Lyon BF decided to activate their medical cover insurance and bring in a "joker médical".
The French Basketball Federation and the Ligue Féminine de Basketball agreed to their demand and Coleman has been signed until the end of February.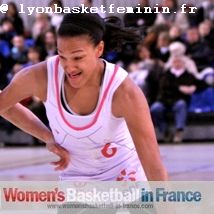 Coleman arrived in France in time to make her début against Hainaut Basket last weekend and played 24 minutes.
Lyon's injury woes continue with Audrey Sauret breaking her nose in practice prior to the weekend's game. However she was able to play wearing a face mask.
Un pigiste des USA pour Lyon BF
Les dirigeants de Lyon BF ont décidé de prendre comme pigiste médical Marissa Coleman pour Marion Arfelis, absente blessée dès le début de 2011-2012, et de Mame Sy Diop, blessée depuis deux semaines.
Il s'agit d'une arrière américaine de 1m85, évoluant en WNBA au Washington Mistics et jouant à partir du mois de mai 2012 avec les Los Angeles Sparks. Coleman jouera pour Lyon jusqu'à la fin de février 2012.
---
Go to Ligue Féminine de Basket 2011-2012 page
Leave Ligue Féminine de Basket - Season 2011-2012 page and return to home page
Return to the top of basketball news page
Picture credits:


Lyon BF

Date created: 08 February 2012

---