Basketball news: Limoges are in need of a point guard
---
---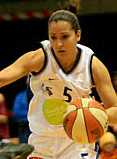 The basketball news for Limoges this season has not been positive as they struggle to make adjustment to life in the Ligue Féminine de Basketball (LFB). They have not won a single game and have been unlucky with injuries.
Faeza Bouderra (left) was injured before the season started. She was expected to return to action at the beginning of November.
However it was announced that she and the club have agreed to terminate the contract. No official reason was given except that the termination was mutual between the two parties.
Ligita Kinkevicienne was signed as the medical replacement for Bouderra, her six-week contract ends this week and will not be extended. She played her last game for the club last weekend.
She played in eight games and averaged 3.1 points per game.
---
Return from Basketball News to Ligue Féminine de BasketBall index
Return to "what new" - WBBiF page
Return to women playing basketball in France home page
Picture credits:
Nantes-Rezé Basket - NRB 44

Date: 10 November 2009

---
---