French basketball news
Laurent Buffard will leave Nantes-Rezé
at the end of the season
With all the basketball news about players' transfers before the final deadlines for various domestic leagues and EuroLeague Women, the timing of the announcement of Laurent Buffard's planned departure from Nantes-Rezé came as a surprise.
Buffard took over the reigns as Head Coach of Nantes-Rezé at the start of the 2009-2010 season and has led the club to back-to-back LFB Challenge Round titles.
The club are currently in joint fifth place in the Ligue Féminine de Basketball regular season standings and are on course for participation in one of the two post-season competitions.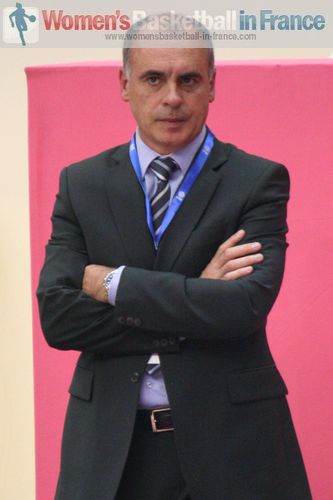 The club has been managing a tied budget over the last four seasons but the current economical situations has meant that they are unable to offer Buffard a contract with conditions he expects.
During the 2010-2011 season the club was deducted a point due to exceeding an agreed salary cap by the French Basketball Federation (FFBB).
As a result Buffard declined the new contract and will end his association with the club at the end of the season.
Below is the full statement in French released by the club explaining the whole affair:
Laurent Buffard quittera le NRB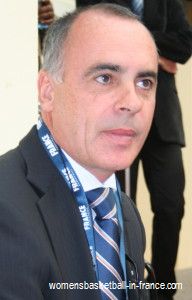 "En fin de contrat à l'issue de cette saison Laurent Buffard ne poursuivra pas l'aventure au sein du Nantes Rezé Basket l'année prochaine.
Arrivé en 2009 sur les bords de Loire, l'ancien entraîneur de l'USVO a décidé de ne pas accepter la proposition de prolongation de contrat faite par le président Thierry FRERE.
Le Nantes Rezé Basket, par le biais de son président, et Laurent Buffard ont tenu à préciser qu'il n'y avait eu aucunes divergences comme a pu l'annoncer la presse, le seul point de désaccord portant sur le contrat en lui-même.
La situation économique a conduit le NRB à faire une proposition de contrat en deçà de celle attendue par son entraîneur. Laurent Buffard a, d'un commun accord avec son président, choisi de décliner l'offre et de quitter le club qu'il avait hissé en Eurocup. C'est donc en toute clarté que les Déferlantes termineront la saison et que les deux parties se sépareront à l'issue du championnat.
Le Nantes Rezé Basket tient à remercier Laurent Buffard pour tout le travail accompli et lui souhaite une fin de saison à la hauteur de ce qu'il a pu construire avec le club."
---
Look back at what happened in round 15 and 16
Go to Ligue Féminine de Basket 2011-2012 page
Leave Ligue Féminine de Basket - Season 2011-2012 page and return to home page
Return to the top of basketball news page
basketball news picture credits:


womensbasketball-in-france.com

Date created: 16 February 2012

---