Nobody knows how many teams will make up the Amateur basketball news in NF1 next season
---
---
Three weeks after the NF1 final four the amateur basketball news from NF1 is all about who will play in NF1 next season.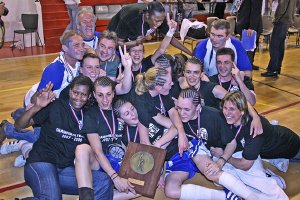 The promotion and relegation rules concerning NF1 is rather simple and yet difficult to apply.The rules are as follows: The bottom teams from the LFB are relegated into NF1 and are replaced by the winner of the NF1 regular season and the winner of the NF1 final four (Basket Landes celebrating title).

The bottom four teams during the regular season from NF1 are relegated to NF2 and are replaced by four teams from NF2.
As of 23 June 2008, we still do not know the sixteen teams that will play in NF1 next season.The reason for all the confusion started with the merger of Saint Amand and UVSO into Union Hainault Basket. COB Calais that finished 13th will not be relegated from the LFB (although not confirmed by the Federation nor the club). If this was not enough Mourenx that finished in last place have gone into liquidation and will also not play in NF1 next season.
Due to the fact that no clubs are coming from the LFB to play in NF1 automatically saved Voiron and Pleyber-Christ from relegation for next season.
Meanwhile Lot-et-Garonne (Temple-sur-Lot) had already said they would not play in NF1 next season and under normal circumstances would have disappeared from the division, which would have saved Marseille from relegation. However Toulouse Cheminots Marengo Sports, a team in NF3, acquired the sporting rights of Temple-sur-Lot and hence will replace Lot-et-Garonne in NF1. (Lot-et-Garonne took over the name of Temple-sur-Lot two seasons ago.)
Racing club Strasbourg is also no more and has been replaced by Alsace Basket Club de Strasbourg.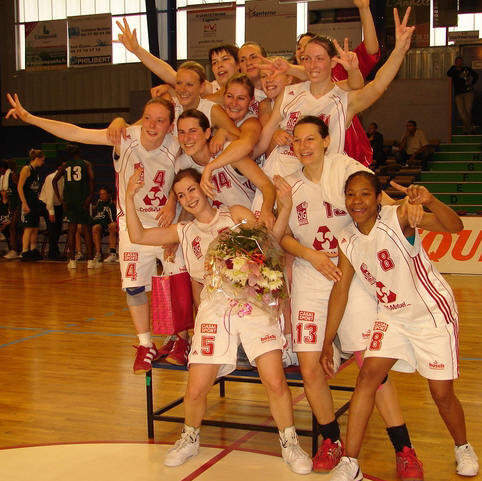 The NF2 champions Strasbourg Illkirch Graffenstaden (SIG), Laveyron (NF2 runner-up) and Ifs have all confirmed their acceptance of promotion while Nice CAB have had to decline the offer.
Furdenheim were offered the place of Nice CAB last week and are yet to make a decision.
We are still awaiting confirmation from the FFBB on the composition for NF1 for next season. What has been confirmed is that the season will tip off on the 13 September 2008.At the moment these teams are the 15 expected to play in NF1 next season.
Confirmed: Charleville-Mézières, Armentières, Dunkerque, Limoges, Rennes, Nice COB La Roche-sur-Yon, CFBBRe-elected: Voiron, Pleyber-Christ
Awaiting confirmation: Toulouse Cheminots Marengo Sports and Alsace Basket Club de Strasbourg
Promoted: Strasbourg Illkirch-Graffenstaden, Laveyron and Ifs
Return from Amateur Basketball News to "What's New" page
Return to Amateur Basketball News
Previous amateur basketball news from the end of season NF2 play-offs
Amateur Basketball News pictures courtesy of the SIG and Basquetebol.org
Date: 24 June 2008
---