Amateur basketball news from the NF2 and NF3 final four
---
---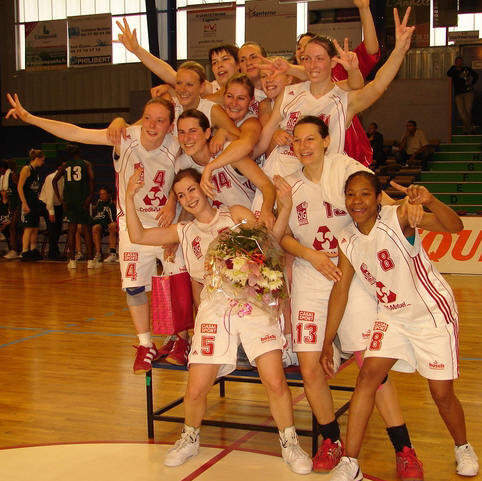 SIG completing the double by winning the NF2 championship
Amateur Basketball news from the Nationale Féminine 2 play-offs
The SIG added to their Tropheé Coupe de France success the NF2 title. In the final they beat US Laveyron (72-57).
The first period was a tight affair with the SIG coming out on top (22-17). During the second period however they stepped on the accelerator and increased their advantage (32-20) with 16 minutes on the game clock.
Yet after the SIG lost Céline Schmitt-Sendner due to an accidental clash of heads they saw their lead reduced to 9 points (36-27) by the interval.
Caroline Nestor-Deininger got off quickly at the start of the second half of the match with a trey. Then SIG took complete control and by the time Schmitt-Sender returned with six stitches, Laveyron looked beaten. Nestor led the scoring with 26 points. But it was the defence of the SIG that did the damage as they conceded only 57 points.
But the SIG has not finished their winning streak: this weekend the minime (U15) side of the SIG qualified for the national final four for the third time in the last four seasons. Also it has been confirmed thah Allison Vernerey will join the SIG next season in NF1
Strasbourg IG: Privet 7, Nussbaumer 3, Fischbach 3, Kuissu 6, Schultz 3, Battaglia 2, Terrin 6, Kopp 2, Nestor 26, Schmitt-Sendner 14

Laveyron : Ayi 5, Carmona 6, Verjuin 7, Embareck 3, Forel 8, Rouat 5, Soubeyrand 10, M'Baye 0, Aïssani 13

No luck for the USVO Espoir as they finished fourth like last year. They were beaten by Ifs (74-60) in the third place match.
As a result of the SIG wining the championship, Nice CAB have been offered the final promotion place into NF1. Ifs will decide after their annual general meeting if they accept promotion. Nice will also make a decision on their participation in NF1 also.
Semi-final results
SIG
70-69. Ifs:
SIG: Fischbach 6, Sendner 26, Nestor 9, M. Schultz 3, Kuissu 9, Kopp 6, Terrin, Nussbaumer 4, Privet 5, Bataglia 2

Ifs: Chourchoulis 22, Villain 22, Galiana 10, Puc 10, Chrzanowski 3, Seigneur 2, Bisson, Diagne, Puech, Doguet

Laveyron 62-49 Valenciennes:


Laveyron: Ayi 10, Carmona 13, Verjuin 10, Embareck 0, Forel 2, Joud 2, Rouat 3, Soubeyrand 0, M'Baye 2, Aïssani 22


Valenciennes: Moreira 4, Tahane 10, Konaté 5, N'Ké 3, N'Soki 14, Girard 2, Kadila 3, Attiogbé 6, Okamba 2, Bouaré 0
Amateur Basketball news from the Nationale Féminine 3 play-offs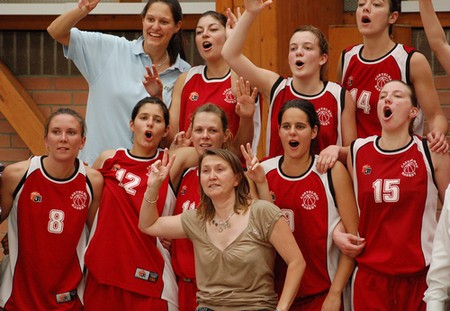 Castelnau Basket ended their season on a high with an overtime victory against USM Saran (81-75) to lift the NF3 crown. Last season Flore Perotto was wearing the colours of Lattes-Montpellier and playing in the LFB. She was considered surplus to the requirements at Montpellier and so she decided to step down and play in the lower leagues.
Her experience in tricky situations helped Castelnau to win this game. With only seven minutes left of the regular time Saran looked to have the game won (61-41). Castelnau's head coach Florence Garnier then picked up her second technical of the match and had to leave the court after a hot discussion with the officials. Before her expulsion her side had reduced the deficit (47-64).
Saran then fell apart. It all started with a little bit of undisciplined behaviour which resulted in a player picking up a fifth foul and then talked herself into a technical that allowed Perotto 4 free-throws which she converted. She then hit what could be said to be the knock-out blow on the very next possession with a trey.
Julie Mason gave Perotto a hand by scoring 4 points before Perotto hit another three-pointer. At that moment Saran's lead was cut to 2 points with just less than one minute left in the game. Then with 20 seconds left in regulation time the game was tied. Saran messed up the last play and the game went into overtime.
Mason gave Castelnau the lead during overtime which they did not lose and went on to win (81-75).
Return from Amateur Basketball News to "What's New" page
Return to Amateur Basketball News
Previous amateur basketball News from the end of season play-offs
Amateur Basketball News pictures courtesy of the SIG and Basquetebol.org
Date: 26 May 2008
---