NF1 Amateur Basketball Pre-Season is almost over
---
---
With less than two weeks before the return of amateur basketball for the women playing in Nationale Féminine 1 (NF1), the time has come to review the results of some of the friendly matches.
Armentières SO
finished fourth last season and have not made many changes to their roster from last season. They have added only two players: Maïwenn Catrix who has had some experience in the LFB with Villeneuve and Sarah Nemmouchi who played at Wasquehal in NF2 last season. Perrine Houcke has left the club and will play for Ronchin in NF2.
The other player to leave is Sabrina Mégoeuil whose future is unknown at this time.
They have played Gant from Belgium twice and won. They have lost against Charleville-Mézières.
ASPTT Charleville-Mézières have made a lot of changes to their roster this season and have so far won all their preparation matches including a (72-63) victory against local rivals Reims from the LFB.
U.S Colomiers Basket, NF1 newcomers, who will have Flore Perotto in their roster, played their first preparation match three weeks ago. So far they have won one and lost four matches.
Dunkerque Malo Basket Club's roster has not changed much from last season with only two new players at the moment. Bénédicte Fombonne (right) from Villeneuve d'Ascq and Amélie Fresnais from Reims. They have replaced Jessie de Colo who has joined Limoges and Rasa Zemantauskaïte who is on maternity leave.
They won their first three preparation matches against teams from Belgium and more recently have suffered defeats against Charleville-Mézières and Villeneuve d'Ascq.
---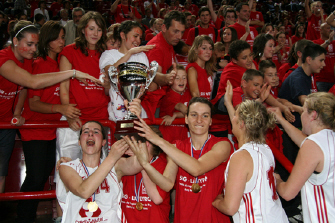 S. I. Graffenstaden
have not changed their preparation system despite their promotion to NF1. They started with a match against Furdenheim followed by a match agaist USC Freiburg from Germany. They won both matches. They will continue their preparation against Strasbourg Alsace Basket before hosting their traditional pre-season opening tournament, taking place this coming weekend. Their annual opener is sponsored by Credit Mutuel.
Club Basket d'Ifs are back in NF1 after one year absence. They have added 1m90 Slovenian Anja Prsa to their roster this season. So far they have won and lost one match.
Roche Vendée Basket Club (La Roche-sur-Yon) with their new head coach Matthieu Chauvet started their preparation with three victories,. This included a victory against LFB newcomers Basket Landes (68-55). Their first reversal came against the other LFB newcomers Nantes-Rezé (46-65).
US Laveyron played their first friendly match during the beginning part of August against St Etienne, a team from NF2, a match they have won. Furthermore they also played and beat Weber University from the United States (67-59). They also took part in the Carros Tournament in which they played against Nice CAB from NF2, a match they lost in overtime. However they did win against Nice COB from NF1. They won against Villeurbanne from NF2. In the four-club tournament in Voiron, they are going to complete their preparation.
---
Limoges ABC en Limousin
pre-season has seen them win all their matches so far. They will complete their preparation with a match against Basket Landes.
Nice Cavigal Olympique have seen four players depart. With Evija Azace not due back until December the club have brought in four new players. Nice' pre-season started with two defeats. But they have a series of matches concluding with a two-match series against Aix-en-Provence.
Pleyber-Christ Basket Club have had various training camps and start their friendly matches with a derby match against Rennes before taking on clubs in NF2 for the rest of their programme.
Rennes Avenir have made many changes to their roster of last season. Like Pleyber-Christ they have started their season with various training camps. They have lined up games with Pleyber-Christ and Nantes.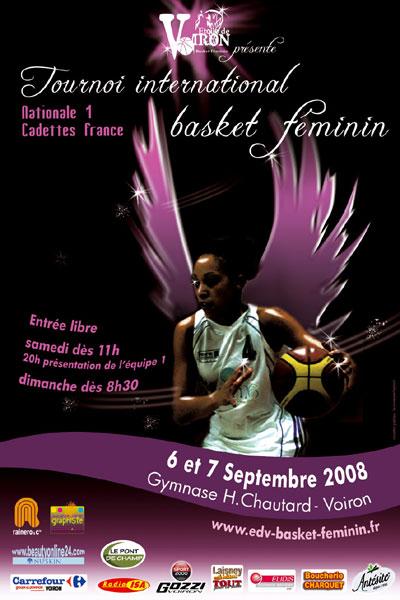 Strasbourg Alsace Basketball Club start their series of friendly matches against S. I. Graffenstaden before matches against Freiburg and Saarlouis from Germany.
Toulouse Métropole Club are still without Emmanuelle Hermouet who is currently playing for France in the EuroBasket Women 2009 qualifiers. They have had a perfect start to their preparation with a series of victories. They will be completing their preparation in Spain.
Etoile de Voiron Féminin have lost twice to Limoges but are organising their own international tournament where Laveyron, Sierre from Switzerland and Broni from Italy.

---
More NF1 Amateur basketball news can be found at the NF1 Basketball News index page
Return from NF1 Amateur Basketball News to "What's New" page
Return from NF1 Amateur Basketball News to Homepage
NF1 Amateur Basketball picture credits:
SIG lifting the French Cup - Basquetebol.org

Date: 03 September 2008
---