FIBA EuroCup Women Beretta-Famila's third European title
---
---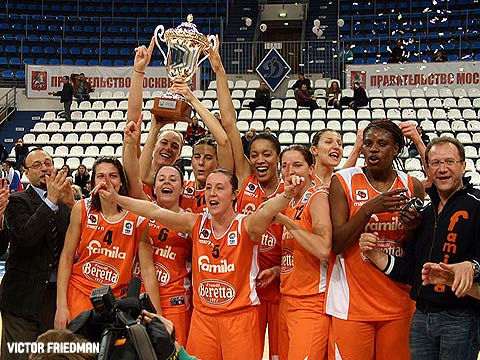 FIBA Europe EuroCup Women winners for 2008 are Beretta-Famila from Schio. The club continued from were they left off from the first leg in beating BC Moscow (78-69) to capture their third European trophy.
Schio came to Moscow with a 20-point advantage from the first leg. By the end of the first period they had stretched their aggregate lead to 27 points (25-18).
Despite the efforts of Monique Currie and Plenette Pierson for BC Moscow with a combined total of 18 points in the first half, the Russian side was not able to reduce their overall deficit. So they went into the break trailing in the match (33-39) and 26 points down on aggregate.
BC Moscow made a valiant attempt at the start of the third period to reduce their game deficit within four minutes to (45-47). This was as close as they got to troubling their guests.
Laura Macchi put Schio back on course with a simple jump shot. By the end of the quarter her team led (56-49).
The Italian side maintained their composure during the final period and went on to win the match (78-69) and the trophy (165-136).
Macchi led the scoreing with 18 points and was joined in double digits by Bethany Donaphin with 16 points. Lisabetta Moro, Raffaella Masciadri and Kathrin Ress also finished in double digits with 14, 12 and 10 points respectively.
For BC Moscow Elena Danilochkina was the big hitter with 18 points. She was closely followed by Plenette Pierson and Monique Currie with 17 and 16 points apiece.
Return from EuroCup Women to Basketball Events
Teams qualified for EuroCup Women 2008-2009
| | |
| --- | --- |
| Austria | Flying Foxes Post SV |
| Belgium | Dexia Namur |
| Bosnia & H | BC Zeljeznicar Sarajevo |
| | BC Mladi Krajisnik |
| Bulgaria | Dunav Econt |
| Croatia | Gospic Croatia Osiguranje |
| | WBC PGM Ragusa Dubrovnik |
| | Medvescak Zagreb |
| Cyprus | A.E.L. Limassol |
| Czech R. | Kara Trutnov |
| Estonia | BC Star |
| France | Challes Les Eaux Basket |
| | Tarbes GB Elite |
| | USO Mondeville |
| Greece | AE Esperides |
| | GS Panionios |
| | AS Athinaikos |
| | Aris Holargou |
| Hungary | Szeviep-Szeged |
| | Seat-Foton Györ |
| Israel | Elitzur Ramla |
| | A.S. Ramat Hasharon Electra |
| | Bnot Ra'Anana Herzelia |
| Italy | Cras Basket Taranto |
| | A.S.D. Basket Parma |
| | Pallacanestro Ribera |
| Latvia | SK Cesis |
| Lithuania | Lemminkainen Klaipeda |
| | ARVI Marijampole |
| Luxembourg | BBT Ros Casares Letzebuerg |
| Montenegro | Buducnost |
| Poland | KSSSE AZS-PWSZ Gorzow |
| Portugal | Olivais F.Clube |
| | A. Desportiva de Vagos |
| | Clube Amigos Basquete |
| Romania | C.S. Baschet Arad |
| | CSS-LMK SF. Gheorghe |
| | CSS.CST Alexandria |
| | BCM Targoviste |
| Russia | Vologda-Chevakata |
| | BC Moscow |
| | Dynamo Kursk |
| | Dinamo Moscow |
| | Spartak Noginsk (Moscow Region) |
| Serbia | ZKK Hemofarm Stada |
| | ZKK Crvena Zvezda |
| Slovak R. | MBK Ruzomberok |
| Spain | EBE Promociones STA. Eulalia |
| | C.B. San José (Leon) |
| | Rivas Futura |
| | Extrugasa |
| | Baloncesto Islas Canarias |
| Sweden | Solna Vikings |
| | 08 Stockholm HR |
| Switzerland | Universite BC Neuchatel |
| Turkey | Galatasaray |
| | Botas Adana |
| Ukraine | BC DNIPRO |
Picture is courtesy of the FIBA Europe
Date: 4 April 2008
Page updated: 23 October 2008 - with 2008-2009 participants
---