BC Violaines youth international basketball tournument preview
---
---
BC Violaines' youth international basketball programme this season has been slightly affected by changes in the French junior calendar and as a result only one French U18 club side is able to take part this year.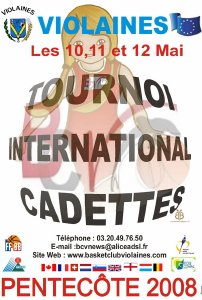 Group A: The Netherlands U16, Luxembourg U16, Perik Jumpers, (NL), Kaunas (LT) and Armentiers (FR).

Luxembourg decided last season to develop this group over a two-year programme, so most of the players in the present squad have already participated in this tournament. This will be the first test of the young ladies before the events to celebrate the 75-year existence of the Luxembourg Basketball Federation.
The national team from Holland are back. They have an exciting young side that love to hit the ball from beyond the arc. They are just beginning their preparations so it is too early to expect a fluent game.
All the same they have some of the best travelling supports in youth competitions. As a consequence, win or lose, the atmosphere will be electric.

Perik Jumpers and Kaunas are clubs with good youth programmes and tend to be competitive. They will not want to lose to the national teams. Armentiers are a team in the French U18 second division. They are the local favourites as they are based less than 20 km from Violaines.
Group B
: England U16, Slovenia, Matrix Magixx (NL), Artois and Amies
England and Slovenia are back this year. Both countries opened their European championship preparations last year in this tournament. Both sides will have players back from last year's team and will be looking to improve on their last year's placing.
England will be with the same coaching team as last year. There are four players from last year's squad in the roster.
Slovenia will also be back with familiar faces. The new head coach is the last season's assistant coach and may be coming with last season's MVP.
Matrix Magixx is another club side from Holland and will start as group favourites. They will hope to go one better than last year and win the competition.
Artois is a selection of players of the region while the Amies came in as a late replacement and will be made up from players from mainly England and France.
The group game will be played in four quarters of eight minutes this year, which should give all the national coaches more time to work with their players.
On the last day all the matches will be played two times 15 minutes except for the final one with a full 40-minute game. The top two teams from each group will meet in the semi-final before the classification games begin.
Youth International Basketball Weekend match schedule
Saturday
Hall 1: VIOLAINES
9 H 00 Netherlands - Luxembourg
10 H 30 Perik Jumpers - Armentières
12 H 00 Kaunas - Luxembourg
13 H 30 Netherlands - Perik Jumpers
15 H 00 Armentières - Kaunas
16 H 30 Luxembourg - Perik Jumpers

Hall 2: GIVENCHY
9 H 00 Slovenia - England
10 H 30 Matrix Magixx - Artois Région
12 H 00 Amies - England
13 H 30 Slovenia - Matrix Magixx
15 H 00 Artois Région - Amies
16 H 30 England - Matrix Magixx

Sunday
Hall 1: VIOLAINES
12 H 00 Slovenia - Artois Region
13 H 30 Matrix Magixx - Amies
15 H 00 England - Artois Region
16 H 30 Slovenia - Amies

Hall 2: GIVENCHY
12 H 00 Netherlands - Armentières
13 H 30 Perik Jumper - Kaunas
15 H 00 Luxemboug - Armentières
16 H 30 Netherlands - Kaunas

Return from Youth International Basketball to "What's New" page
Return Youth international basketball to Basketball events

Date: 09 May 2008
---